As a troubled teenager Marcela Shannon found help and hope in an unlikely place. She became part of an after school, agriculture-based program. GRuB, an organization that utilizes growing food as a platform for community building, teaching optimal health and empowering individuals, sponsored it. Young people steward GruB's two-acre urban farm in Olympia. There Shannon discovered the beauty of herself and the freedom and inspiration to move into her young adult life. GRuB strives to break cycles of hunger, poverty, inequality and oppression. One aspect of social justice is achieved when all people have access to real food. Food from the farm goes to the local Senior Center, Thurston County Food Bank, CSA and to the people who work and volunteer there.

Shannon recalls, "GRuB introduced me to Avanti," an alternative learning high school from where she then graduated. "It was a better fit." After graduation Shannon moved out of the area for a time. Upon returning, she worked a stint at a local restaurant but wanted more meaningful employment. She ultimately found the environment she was seeking when she was hired as GRuB's administrative assistant. She delights in the diversity of her duties and finds her fingers in many of the on-going projects. Another job benefit is continued learning about healthy food and healthy eating.
GRuB actively initiates food projects and programs that support people of all ages and backgrounds with attention to youth, low income and others who have been marginalized by various circumstances. An exciting two-year pilot program, called the Prescription Garden Project, is getting ready to launch next year. Twenty-four obese children and their families will have gardens built at their homes. They will receive monthly on-site visits to troubleshoot any plant/garden issues and also to receive health information. Twice monthly the families will gather at the GRuB farm location for group activities around peer support and various skill- building. Families will cook a meal and eat together. This program is unfolding with the help of Providence St. Peter Hospital, Capital Medical Center, Olympia Pediatrics and numerous health-care professionals. The long-term benefits of whole families improving their lives and health are staggering. It is an investment for life-long well-being.
Did you know that seniors and students garden side by side in the Dedicated Intergenerational Gardeners (DIG) program? They meet twice weekly. Cooking a meal and eating together is part of the fun. The Kitchen Garden Project started in 1993 and helps people build and establish home gardens. It has since folded together with the Victory Garden Project, which helps transitioning veterans. Executive Director Katie Rains appreciates the depth of skills and talents of these volunteers. "They are team players and have a great work ethic," she added.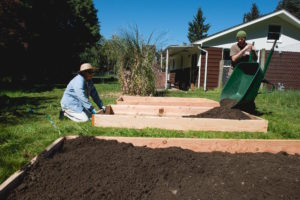 Rains, who has been the executive director since April 2013, fosters an enduring spirit of abundance that connects across great diversity (both of people and plants) while learning from nature. She sees the power of connecting people with healthy food. Involvement with GRuB allows people to see what resilience occurs in nature and how that can apply to their daily lives. There is always emphasis on the power of relationships, including people to people, people to food, people to their own health and just about everything else. GRuB's food based programs are meant to create ambassadors of health – people who care about themselves and feel responsible for their own well-being.
GRuB is a busy place. With 16 employees, two AmeriCorps positions and 276 volunteers, Rains said, "We have learners of all ages." If you are interested in finding a volunteer opportunity that suits your talents and interests, check out the volunteer information. Keep up-to-date on activities on GRuB's Facebook page. There is always something wonderful growing at GRuB!
P.S. If you are wondering what GRuB stands for – it is Garden Raised Bounty. I had heard that the small 'u' was for urban, but GRuB builds rurally, too, so that was not correct. A little bird told me that it is there because GRuB would not be GRuB – without 'you.'