According to the US Census Department, Washington is home to more than 500,000 of our country's 21 million military veterans. Of these, nearly 20-percent live with a service-connected disability.

For such servicemen and women, it can be difficult to return to previous outdoor activities like back-country hunting. But research conducted by the Veterans Administration and Sierra Club "suggests a link between outdoor activities and long-term psychological well-being."
This link is the driving force behind Outdoors For Our Heroes. Founded by Jason Brown, this non-profit takes small groups of disabled soldiers on hunting trips across Washington, Oregon and Idaho, all at no cost to the veterans themselves.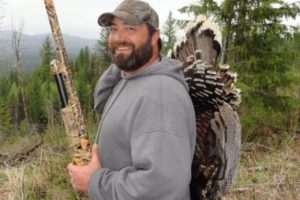 Having spent three years in the Navy, Jason, an avid outdoorsman took a class on the evolution of leadership that he says "got me thinking." One of their tasks was considering the legacy we each leave behind. "I've always had a soft spot for disabled veterans; helping them is something I just cannot resist."
In this classroom setting, Jason was both encouraged and guided through the steps that quickly became Outdoors For Our Heroes (OFOH). After receiving his legal non-profit, tax exempt status, he reached out to a variety of volunteers, guides, local businesses and landowners. In 2016, OFOH took its first 12 disabled veterans on hunting trips and got rave reviews.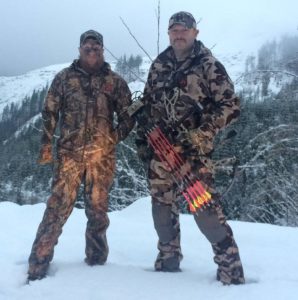 Remembers Jason, "They had such a good time, it kind of became therapy." Spending time away from crowds amidst nature's peace and solitude had soldiers reporting a decrease in insomnia, a common symptom of post-traumatic stress disorder (PTSD).
With an all-volunteer staff and goal to keep financial overhead to 10-percent, nearly all donations support the OFOH mission, which is to "provide hosted hunting opportunities . . . on quality private properties. We provide full financial support, logistics, accommodations, guiding and support resources to achieve the greatest experience for our service-connected disabled men and women. Our disabled vets are facing many new challenges in life they had never anticipated. We partner with many volunteers, ranch owners, equipment manufacturers and sponsors to make hunting experiences as simple as possible so our service-connected disabled vets can focus on the memorable part of the hunt while we worry about the logistics and costs."
Among those participating was Trevor, a veteran who had lost an arm in tank combat. Through determination, practice and a little manufacturing ingenuity, he was able to return to bow hunting elk using a customized mouthpiece.
But more than hunting, OFOH strives to be of "service to the community as well as our veterans." Jason and his team partner with waterfowl and deer conservation organizations through charity efforts and even craft nesting boxes for wood duck.
Thanks to local businesses and sponsors, OFOH has gone on two turkey shoots this year with a goal of doubling their annual hunts to 24. With trips planned from "Ridgefield and Kalama to Monroe and Bellingham, Spokane and more," donations of time and money are always welcome.
Even if you are unable to provide financially, OFOH is always looking for private land to use. Says Jason, "We work with property owners and try to avoid public land hunts. Flooded winter fields are great for bird hunts," and a variety of site options give them choice when dealing with mobility issues. It is key to "place the right vets with the right teams and guides," so knowledge and a willingness to help are vital.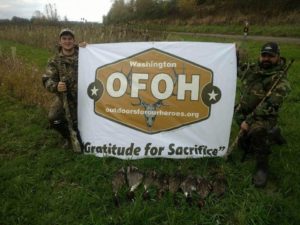 Want to know more? Visit Jason and his team at the Lacey Cabela's Hometown Heroes Celebration, on May 20-21 or simply reach out directly at 206-571-0218 or email jason@outdoorsforourheroes.org.
Military service is never easy, especially when the scars last a lifetime. Become a hero yourself by supporting, volunteering or simply thanking organizations like Outdoors For Our Heroes.