The winning height in the pole vault at last year's Class 2B state track and field meet was 13 feet.
Or nine inches shorter than the mark Brayden Lasher registered in 2016.
Lasher, then a junior at Rainier High School, was in attendance at last year's state championships at the Eastern Washington University. But he didn't compete.

Instead of standing on the podium, he was sitting in the stands. His season cut short by a torn right quad.
"It just ripped my heart out when he got hurt," Rainier coach Rob Henry said. "He's the type of person you root for. He's just a hard-working, polite kid. I don't have kids, but if I did that would be the type of kid I would want. His parents did a great job with him."
Lasher, bum quad and all, hopped in his car and made the drive over the Cheney by himself with one purpose – to cheer on his teammates.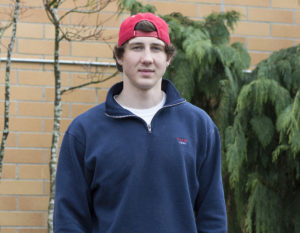 "Here he is, in the stands, watching the event he should have easily won, and he's there to support Dillion (Ducharme), who was a senior last year and made it to state in the vault," Henry said. "It shows the character he has."
Lasher's season-ending injury occurred the previous week at the district championships. He knew something was off concerning his quad a handful of weeks before the meet, but elected to push through.
He was constantly clearing 13 feet and actually broke the school record of 13-7 at the Pacific 2B League subdistrict meet, posting his PR of 13-9, so he figured things can't be too bad.
Things quickly went south at districts.
"He was battling a bad quad all year. It was cold and damp at districts and there was a head wind," Henry said. "He just couldn't get the speed to get up in the air. He couldn't run. He tore it completely."
Of course, a state championship would have been nice, but, according to Henry, how Lasher ultimately dealt with the injury and the way he put his teammates in front of him, was a significantly greater achievement than winning that day.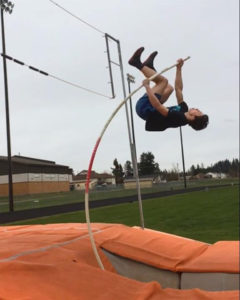 "He didn't have to be there at all," Henry said about Lasher's appearance at last year's state meet, "but it was just really cool to see him there. It said a lot. And the thing about Brayden, he hasn't once let out any frustration about it. He didn't brood or pout about what had happened to him. He just let it go and focused on getting better this year."
And how has that panned out?
"He came back stronger than ever," Henry said.
Lasher opted against turning out for wrestling this year. Instead, turning his attention to the weight room. When he wasn't lifting during the winter, he was spending three days a week in Centralia working out with a pole vaulting club, improving his already extensive skill set.
"I was upset about how last year ended," Lasher said. "It was sad watching the pole vault (at state last year), but it was really fun being with my team. All of this just gives me a good goal to shoot for."
While the pole vault has evolved into Lasher's passion, he actually needed some convincing to continue the event once he reached high school.
"We were talked into trying it out in middle school," Lasher said. "There's always a bunch of kids who try it and never came back. I was ready to quit after middle school. I didn't want to do it as a freshman. I just wasn't progressing. Coach Henry told me to stick with it though. He said eventually things will start to click."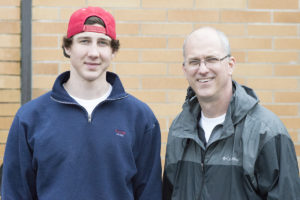 Henry's prophecy was realized at the start of Lasher's sophomore year.
"First day the pit opened we put the bungee up and I cleared 10 feet," Lasher said. "I had never got past nine the year before so that's what sealed it."
Lasher would go on to place third at state in 2015 with a mark of 12-6.
In addition to a state title, the goal this year is to hit the 14-foot mark.
"Hopefully the sun will come out and I can do 14 or 14-6," said Lasher, who has drawn interest from several colleges, including Saint Martin's University. "It's doable. I have the right poles. I just have to wait for the weather."
Even with the sub-par weather conditions, Lasher's success in the event has generated increased interest in the pole vault among the Mountaineers.
"He really understands the event now and he's coaching up other kids on it," Henry said. "I think they watch him and they've become spoiled. They see him every day and they think what he is doing is ordinary. I don't think the kids understand how impressive he is because he's doing it every day in front of them."
And what's the final mark Henry thinks Lasher will land on?
"He can do 14-6," Henry said. "Brayden has it in him. He's put his time in. He's put a lot of work into it."
And, that would be a pole vault which would certainly catapult Lasher from the stands to the top of the podium.