Since 2001, Comcast has been organizing Comcast Cares Day, the nation's largest single-day corporate volunteer event to give back to our community. Since joining with NBCUniversal, the company has expanded the event to over twenty-two countries worldwide. This year, the Tumwater and Lacey branches of the Boys & Girls Clubs of Thurston County were chosen to receive not one, but two days of help to spruce up their facilities.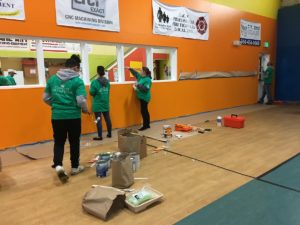 "Comcast founder Ralph Roberts started the community service work," says Holly Scott, administrative assistant at Comcast, who has been attending Comcast Cares Day for the past 12 years. "He passed away a couple years ago at 95, but up until that point, he went to every Comcast Cares Day. He would come with his green shirt and his bowtie – because that was his trademark – and he would say 'if I can do [charity work], anybody can do it.'"
On April 22, 51 Comcast employees and their families, along with staff from the Boys & Girls Clubs of Thurston County, attacked the overgrown yard of the Tumwater location, making it safer for the kids to enjoy. They cleared out blackberries, weeds, and a few small trees. They added a fence and gate to close off part of the yard, and helped get the raised garden beds ready for planting.
"This is just awesome," says Rainey Johnson, who runs the Garden Club at the Tumwater Boys & Girls Club. "Alone this would have taken us days to clear out these beds. But now they are ready for the kids to plant them – it's very exciting."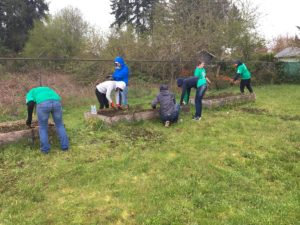 In addition, the group pulled weeds throughout the property, and removed the moss from the outdoor basketball court. They also repainted it and Comcast donated two basketball hoops to the court, which currently only had one broken hoop. "It's amazing to do something like purchasing the basketball hoops, which was a small thing for us, but that is so big for the club," says Scott. "Now 200 kids that come here can use the courts."
Despite the rain, the volunteers were all smiles. It was clear they loved being able to give back to their community, where they live and work. Rick Emley, a Comcast broadband technician for 17 years, loves that his employer organizes a way for him to give back and has participated the last 8 years.
"My wife and I are both passionate about volunteerism," Emley says. "This is just one more way we can say thank you to our customers and the community that we work in. We never lose sight of the fact that we are working for the community and the customers every day. It's great to work on a project like this that benefits the entire community."
At least a third of the volunteers were children of Comcast employees, some of whom have been volunteering for years. "I've done these days since I was little, about six years old," says Shawna Swanson, now 17, who is the daughter of Merrill Swanson, a Comcast employee. "It's nice to help out the community," she continues. "I love seeing how it turns out, it's very satisfying." Scott adds that she has watched many toddlers grow up into young men and women at these events and loves seeing children grow up with a heart for charity work.
The next day, at the Lacey location, 59 volunteers painted inside and cleaned up outside. They quickly spruced up the building with cheerful yellow and orange walls throughout. Scott said the work they were doing freed up the Boys & Girls Clubs staff members to do other vital things, including training.  "They told us that normally it would have taken them two days to do this work, just at the one location," says Scott. "This way, they can focus their time on training their new staff instead."
In addition to fresh paint, the crew worked on weeding, clearing branches, and removing dead debris from all over the grounds, making it a better place for the over 250 kids who use the Lacey facility each day.
And while it was another rainy day, those on outdoor duty were still in high spirits. Comcast employee Zachary Pion and his wife, who were participating for the first time, admitted the work was hard, but that it was worth it. "It shows Comcast cares about their community and is always there for the people," they both said.
Earlier this month, Comcast also held a blood drive at their office, as just another way to give back to the community. You can bet Ralph Roberts would be smiling in his bowtie, proud of the legacy of giving he has left behind. For more information, visit the Comcast website.
Sponsored