New moms often have a variety of aches and pains in their bodies. Thumb and wrist injuries are common, as are hip and neck ailments.
Penrose & Associates Physical Therapy has diagnosed many moms over the years and has seen the effects diapering, holding and feeding baby can have on joints. Most people's bodies are unaccustomed to the often-awkward positions these new tasks demand.
For any caregiver tending to a newborn on a regular basis, it's important to consider positioning. To prevent tendonitis in the thumb, make sure your wrist is neutral when holding baby—your wrist should stay in line with your forearm. Be aware that your hand isn't cocked back with the weight of baby's head or body.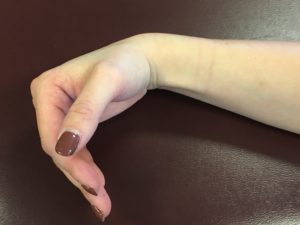 When nursing and feeding, pillow support is crucial. It takes a few extra seconds, and can be difficult in public, but planning ahead to have pillows in the car or a Boppy in the diaper bag can be the difference in sustaining an injury or not.
For hip and neck care, positioning is also crucial.
"When you hold the baby on one side and jut your hip, that causes stress and pain on your hip," shares owner Jennifer Penrose. "Ergonomic packs are helpful as having both your arms free is much better, especially if you're walking around."
She notes that when nursing or bottle feeding, caregivers are often looking down and to the side. "Taking the time to properly position, such as propping your baby up and not straining, will help prevent neck pain. It shouldn't feel like you're holding the baby – even a six- to eight-pound baby. You should feel completely supported or propped."
For someone experiencing pain associated with taking care of a newborn, Penrose suggests icing the inflamed area, taking ibuprofen if your doctor allows you to take NSAIDS as needed, and getting as much rest as possible. She also recommends wearing splints on your wrist or thumb if experiencing symptoms of tendonitis. If pain lingers for more than two weeks, Penrose encourages asking your doctor for a prescription for physical therapy.
For more information, contact Penrose & Associates Physical Therapy at 360-456-1444.
Sponsored