Many of us have watched a movie based on a Jane Austen novel and wished to spend a day drinking tea, playing lawn games, dancing the night away, or even dabbling in archery. That time period known as the "Regency Period" is looked upon with nostalgia – it was a time when men were gentlemen and women were ladies. The Washington Regency Society was founded in 2012 with the goal to "educate its members in the dress and customs of the period through costumed events similar to those people would have done at that time," explains Ruth Haring, president of the Washington Regency Society.

The Regency Period is defined as the time between 1811 to 1820 – when George IV was on the throne of Great Britain as the Prince Regent. Like many of us, Ruth first fell in love through Austen's works. "I've been reading Jane Austen since middle school," she says. "Many people enjoy the various film adaptations of Jane Austen's novels, and I am no exception. I became interested from an early age in the social history of the Regency Era, particularly the dress, manners and life of the people, which was fairly revolutionary in some ways. So I guess you could say that I have had a lifelong interest in the Regency Era."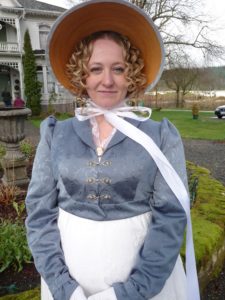 When Ruth learned about the Oregon Regency Society, she and her family attended several of their balls and retreats and fell in love with the idea of being able to step back in time to Austen's world. Since Ruth lives in Thurston County, though, she was spending a lot of time driving to events down in Oregon. "When an opportunity arose to head the Puget Sound region of this organization, I decided to take it on," she says. "Then, with encouragement from the ORS, the Washington Regency Society (WRS) began in 2012."
Ruth is now in her second year as president of the WRS. The WRS hosts many events throughout the year including teas, balls, picnics, outings, such as sailing on the Lady Washington, and a trip to Victoria, B.C. for tea as well as workshops. "Our most popular events include our summer picnic, which for the last two years has been at Lakewold Gardens, and our Spring Tea at the Secret Garden Tearoom in Sumner," Ruth says. "These are probably the best events for newcomers. Both require only one outfit, or people are encouraged just to come in their regular clothes. We never require costumes; our motto is 'Costumes admired but not required.'"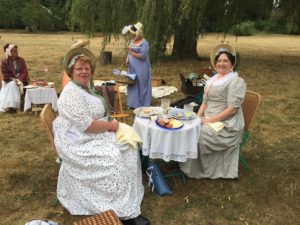 "However, once you have seen the costumes, you will probably want one," Ruth adds. Also, the Washington Regency Society is there to help you create your own fashions. In fact, Ruth says that is one of her favorite parts of the WRS. To that end, they hold workshops where the members share their knowledge with others. They have several sewing days to help new members make costumes as well as topic specific events including bonnet, mitts and cap making.
While costuming can be expensive, Ruth suggests it does not have to be. "We have members who shop at Value Village and find fabric and clothes to make very acceptable costumes. We also have members who get their gowns custom sewn. Most of us sew our own outfits, using existing patterns." Of course, they have a plethora of resources to help the newcomer know where to shop to find the right materials.
A Break from the Real World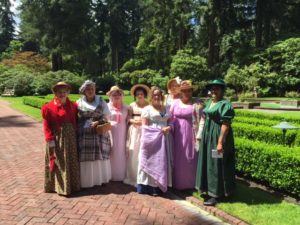 We all need a break from reality now and then. It is why we go on vacation to remote destinations or places like Disneyland that separate us from the outside world for a few days. The Washington Regency Society affords its members the ability to take mini-vacations close to home throughout the year. "It is a nice break from the 'real world,'" Ruth says.
But at the same time, the activities of the WRS reflect history. The members are learning and assimilating a real culture and time period. "I have deeply enjoyed learning a lot about the times and the lives of people during the Regency," Ruth explains.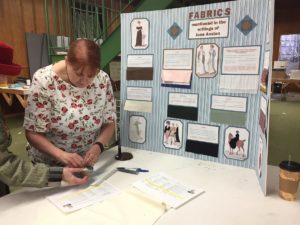 "There was a lot changing in the world, and the regency expressed the way that British people, in particular, responded to those changes," Ruth continues. "I also really enjoy meeting new people and helping them get involved in our group. Once people don the clothes of the period, we all seem to also adopt a persona. The manners and customs of this period are lovely, the dancing is fairly structured and courtly, and the focus is on interaction with others."
If taking a break from the real world and getting back to a simpler time with elegant manners and old-fashioned good times sounds appealing to you, the Washington Regency Society is always welcoming new members. You can visit the Washington Regency Society website for more information including a list of upcoming events and membership information. You can also follow them on Facebook.