Have you ever held a zine in your hands? Before last month, I must admit, I did not even know they existed. I came across the word on the Olympia Timberland Library's events calendar while I was perusing for fun, free things to do.
"Come and meet other people that read/make zines! We'll eat snacks, have time for show and tell, work on a collaborative zine and see what happens!" the flyer read.

In that moment I had no idea what this Zine Club was, but I was on a mission to find out.
While the internet can define zine for you (an independently created, underground publication, non-commercial and often not-for-profit), it cannot bring them to life or explain their appeal to writers and readers alike. The only way to understand is to hold one of them in your hands. So, I headed to my local library to find out more.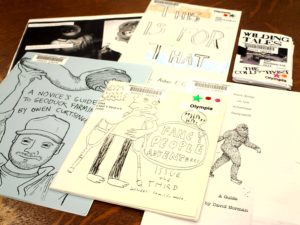 Zine Club coordinator and librarian, Allison Mackey, gave me a tour of the collection during my visit to the Olympia branch of the Timberland Regional Library.
"Zines can be written by anyone and be about anything. The purists would probably say they should be crafted with only a typewriter, scissors, glue and a Xerox machine, but many zinesters also use digital publishing programs," Allison explained.
Zines come in every shape and size and color that you can imagine. The topics are extensive and intriguing. The creative bounds, limitless. The personal touches, captivating. While one zine I read reminded me to see the beauty of the skin I am in, (You Could Look Different by Joshua James), another deepened my understanding of the elusive Northwest legend Bigfoot (Field Notes on the American Sasquatch, A Guide by David Norman). Zines can teach you virtually anything from how to farm for geoducks, or tell a story about the alarming yet humorous struggles of an inner-city teacher or give you an inside look into someone's deepest thoughts, dreams and even demons.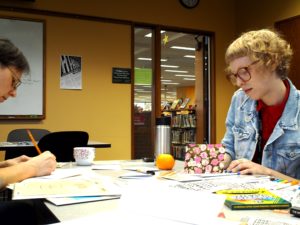 Zine Club member, Brigit Free, explained the contrast between published books and zines through a medium most of us can relate to: food. "It's the difference between eating at a restaurant and a home-cooked meal. Both are delicious, but one is personal, memorable, untouched by the restrictions of commercialism."
Brigit discovered zines while working on an assignment for her anthropology class. Her task was to study an underground subculture. One meeting in and she was hooked.
"Zines are quirky and different," she said. "There is something wonderful about the author's creative touches and the ability of the reader to hold it in their hands."
Zine Club, hosted by Allison and the Olympia Timberland Library, the third Saturday of every month from 3:00 p.m. to 4:45 p.m., is a great place to meet other zine authors like Brigit. It is also a place to share your experiences, get feedback and ideas and even work on your own zines.
"The library has everything you need to make a zine," Allison pointed out. "We have free scanning, free printing, long-arm staplers, a bone folder, paper cutter, clip art books, stamps and even typewriters."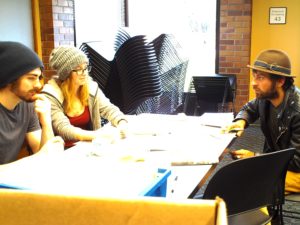 "I wasn't sure at first what writers would want from the club," admitted Allison. "Writing can be solitary work, though, and the zines are often the only way authors communicate. The main idea in establishing the club was to create a place where people could come together." At my first meeting, we took some time to do exactly that.
Halfway through our time together, Allison opened the floor to writers who wanted to share zines currently in the works.
Brigit shared a rough draft of a zine she has been working on, a recollection-turned-narrative about a mouse who found its way into her kitchen and set up a nest in her daughter's boots. Across the room Isaac Jasinski explained how he was adding details and ideas to his first zine, a captivating combination of psychedelic art work and poetic story-telling. Walker Stevens brought in a finished piece he is hoping to revisit and expand on about gardening and the evolution of seeds through the generations.
When I asked these authors why they write zines, Isaac responded with, "Why not?"
"There is no one to impress, no rules. I started writing zines because I saw an opportunity to unite my writing with my artwork," Isaac continued.
Walker, who makes his living as a writer, sees zines as the unintentionally beautiful product of the disconnect between producers and the rest of us.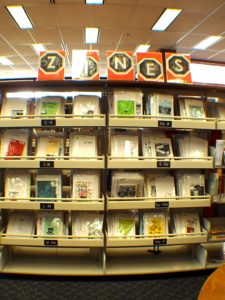 "Zines offer something for everyone and every level. They empower all writers with the ability to self-produce. The process is real and beautiful and every piece that emerges is different," Walker elaborated.
For Rachel Raider zines are intriguing because, as she explained, "There is no real sense of end. They offer so much more than words."
This truth can be seen in the library's growing collection. Allison finds new zines through a combination of hard work and good luck. While some zines are donated by authors or owners, many are purchased at zine festivals such as those hosted in Seattle, Portland and even right here in Olympia every October.
Sage Adderley-Knox has been writing zines for over 13 years now. In addition to serving as a zine fest organizer, she also runs the successful zine distro, Sweet Candy.
"I love how intimate zines can be. The zines I connect with make me feel safe and a part of something bigger than myself. I feel community through those written words. Plus, making zines is beautiful and therapeutic," Sage commented.
I wondered what advice an experienced author like Sage might have for someone new to the craft.
"Personally, I am a very spontaneous zine maker. You will never find a zine made by me that is 40 pages long. I don't have the patience or attention span to put something text-heavy together. I create when the zine bug bites. I sit down and write, create collages, then cut and paste my material until the zine is completed. The best advice I can give is to jump in and get going. Don't forget, there are no rules in zine making. Do it your way and don't think too hard about it," Sage explained.
Because zines are for everyone, every age, every background, every level of expertise and interest, they become the instrument that gives volume to voices often unheard, a powerful thing in a world dominated by published, clean-cut, perfected words.
For more information, contact Allison Mackey at the Olympia branch of the Timberland Regional Library via email or consider stopping in on the third Saturday at 3:00 p.m.
Allison and the Olympia Library will be hosting another meeting of the Zine Club, April 15, 2017, at 3:00 p.m. This month a fellow member and local zine author will be giving a "how-to" presentation on basic typewriter care and maintenance. So, come on by, check out some zines, and as the flyer says, "see what happens!"