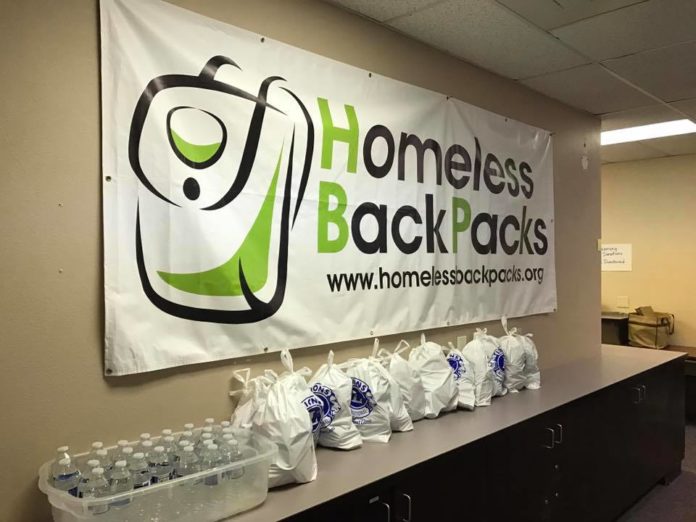 Since 2004, Homeless Backpacks has been helping over 430 homeless kids in Thurston County stay fed through the tireless efforts of their volunteers. This March, the Gateway Rotary is helping by taking over the entire Homeless Backpack program for one week – not simply doing all the work, but also covering all the costs. This is the first time the program has had a "takeover" and both groups couldn't be more excited.
Kelly Wilson, the chair and founding board member of Homeless Backpacks, says the project was started out of a desire for her group of friends to help those who go hungry have something to eat. When they found out how many teens and kids were homeless is the area, they decided to focus on helping these kids have food over the weekends and holidays.
"When we saw how many kids were going hungry in our community, we knew this is what we wanted to focus on changing," Kelly says. "Our goal is that these kids can stay in school, focus on school and being a kid." Homeless Backpacks serves high school and middle schools in Olympia, Lacey and Tumwater, and all grades in Tenino, Yelm, Ranier and Rochester.
The backpacks also give counselors a chance to check in with students to see how they are doing and if they need help with anything else going on in their lives. Most of the homeless teens are living on their own and are choosing to go school to every day. "It's incredible. I am blown away by these kids. They get themselves up each day from wherever they are getting up from and they go to school," Kelly says. "We want to help these kids be successful."
Gateway Rotary has been involved with the program since the club was established five years ago. "Homeless Backpacks has been an important service project for the club," says Doug Mah, club service chair for the rotary. "It was one of our first activities and projects as a club. We are focusing on helping at-risk youth in our community and are seeking volunteer activities where we can see our accomplishments and they are fun to perform as a group. More importantly, the mission of ensuring that students in our community don't go hungry over the weekend or while at home is very significant to club members that understand you can't focus on school if you are hungry."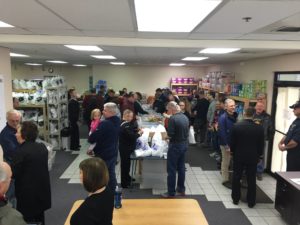 In the past, Gateway Rotary has made financial contributions and participated in numerous "bagging parties" where volunteers help fill the backpacks. Some members have volunteered on their own and several club members are or have served on the Homeless Backpacks Board of Directors. The leadership of these individuals helped to create a strong bond between the rotary club and the non-profit organization.
This year, Gateway Rotary is going to help even more by taking over the entire week of work normally done by Kelly and her volunteers.
"We have no paid employees. It's all volunteers and we are completely funded by our community. We don't receive any government grants," she says.  "This really speaks to our community and how we will not stand for kids going hungry. But, we do have to work hard to get those money and food donations. We do a lot of fundraising. So, to have a group like Rotary come in and takeover a full week's worth of time and money, that's amazing and we hope it will inspire others."
Takeover Week
Gateway Rotary will be taking over from March 20 through March 30. "The week of Homeless Backpacks will be our first opportunity to contribute to the whole process where we will purchase, collect, prep the shelf-stable and ready-to-eat food for bagging, assemble and fill about 800 bags and then distribute the finished bags to the participating schools across Thurston county," Doug says. "We are excited about this fun and meaningful work."
Volunteers will start by shopping for food items for the bagging party, which includes over 800 cans or boxes of food. On March 23, a group of middle school students from Charles Wright Academy will be helping them prepare the fresh fruit bags that go into the backpacks. Then, the club will get together to pack the bags of food. Finally, the rotary club will deliver the assembled bags to schools serviced by Homeless Backpack.
The Gateway Rotary club is the fastest growing club in the region and has over 100 members. Doug says they expect about 40 members will volunteer for at least one part of the project.
For more information about Homeless Backpacks and how you can help, visit the group's website or their Facebook page. You can learn more about Gateway Rotary on their website or Facebook.