It is a jagged journey from foster care to the spotlight in a darkened basketball arena, where a huge crowd watches as a banner is being unfurled honoring you as a national champion.
But such is the story of Mikel Smith, a high-jumping senior at Saint Martin's University, who has his sights set on competing in the 2020 Olympics – and a life goal focused on giving to kids who faced similar experiences to his.
"I've been through what those kids have been through and I understand where they come from," he said in a story in Saint Martin's Insights magazine last year. "I'd like those kids to know that they can grow up to be great individuals."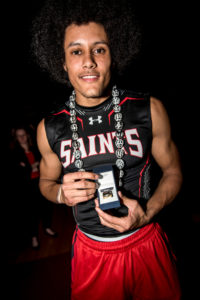 Born in Kent, Mikel and five siblings were separated from their biological mother who had largely left them unsupervised to fend for themselves, he shared. He was four when he went into foster care.
"We did pretty much what we wanted" he said.
Once removed, he and his siblings bounced from one foster home to another – sometimes placed together, sometimes not.
Most of them finally ended up in foster care in Mukilteo. "It was like going to another place – I didn't know why we were here," he recalls.
Eventually adopted, their new family uprooted them to Oklahoma. The parents eventually divorced, leaving Mikel and his siblings again depending on themselves. Their adoptive mother did not bring in enough money to stay afloat financially, so the kids worked. Mikel did many different types of jobs to bring money into the house, including working for three years at McDonalds.
Not exactly the most fertile ground in which to grow into what Mikel became.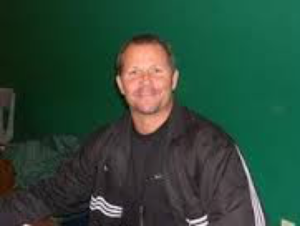 But through all the trauma at home and all the jobs worked to help pay bills, sports was his salvation.
"Since fifth grade, I've always liked to run and jump," he said. "I've always been into track." Football was his sport of choice for quite a while and he shares, "I just did track because I thought it was fun."
At Muskogee High School, he met a man he credits with being the one caring adult most kids in his situation need if they are to succeed. That person was track coach David Heath, who sees his job as creating "champions for life."
"He really believed in me – believed that I could do better than I was," Mikel shared in a story for a local newsletter, Caregiver Connection. "He made me work hard. He told me I needed to push myself. He showed me I didn't have to let my life circumstances determine how I grew up."
"His story is so incredible," Heath said in the same story. "In 27 years of teaching, it is one of the best stories I know. He is a very special kid. Always the first to practice. Always the last to leave."
Heath recalls a "skinny, frail kid" who ran everywhere, often working several jobs, who blossomed into a phenomenal high jumper.
He added, "It touches my heart knowing that Mikel is doing well and also trying to give back to his community and touch young people's lives, as well."
Mikel hurried back to Washington after he graduated from high school. His biological father knew the jump coach a Saint Martin's. Mikel visited, then enrolled.
Sports were always going to be part of his future, but so was computer science, his original major. He learned he was not a particularly good programmer, so he switched to social work.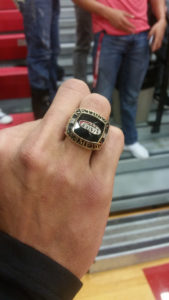 Saint Martin's, with its supportive environment and stress on community, proved a good fit. Under the tutelage of jumps coach Burke Bockman, Mikel seriously upped his jumping game. It all paid off last spring in Orlando, when he jumped 7"1' and won the NCAA Division II championship. That led to the ceremony honoring him, with University President Roy Heynderickx and leaders of the University's athletic department at his side. He is Saint Martin's first national champion and was given a ring and banner to mark the honor.
But as focused as Mikel is on the Olympics, he has already started to give back to young people from situations like his. His social work internship is 10 hours a week and he serves as in an on-call role at Olympia's Haven House, a refuge for youth 12 to 17 run by Community Youth Services.
In 2016, he also became a counselor at Camp To Belong Washington, a camp for siblings, like him, separated due to foster, relative or adoptive care. The camp theme was "Never Give Up" and was linked to the just-concluded Summer Olympics in Brazil. With the Olympics theme playing, Mikel carried the torch into the camp's opening ceremony and lit the campfire.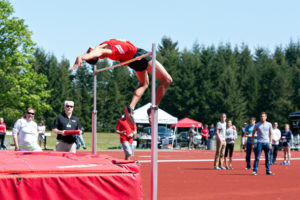 During the last campfire on Friday, he wore a camp medal around his neck for his participation with the other counselors and campers in displaying life-changing qualities and told the campers, "I'm more proud of this medal than any other medal I will win in my life."
After graduating from SMU in May, Mikel says he wants to turn pro, high jump at the Olympics and make enough money to open a home for troubled, at-risk youth.
His inspirational mantra to the kids at camp and others who look up to him describes his life to date: "Never doubt yourself. Dare to be great. Don't ever let anybody tell you can't do something. You can do anything."