Cascadia Grill, located on the corner of 4th and Columbia in downtown Olympia, has experienced a few incarnations over the years. Longtime Olympians may remember when it was the Columbia Street Pub. Recent transplants may recollect when it was called Plenty.

While the business hasn't changed it's name from Cascadia Grill, new ownership by Jef Dukes and Julia Guarino has taken the restaurant to the next level. The eatery is embracing the roots of its name and highlighting the flavor and flair of the Cascadia region, a hypothetical geographic location stretching from Canada to California.
The walls are lined with black and white photographs of famous people throughout the Cascadia region, such as brothers Niles and Frasier from the '90s, Seattle hit television show Frasier, prominent people from the Squaxin Island Tribe, Kurt Cobain and famous, parachute-getaway robber D.B. Cooper, for whom one of the best menu item is named.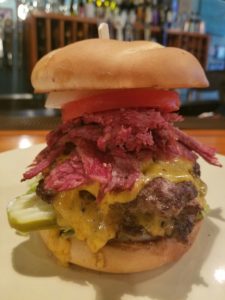 The menu itself exhibits that Northwest vibe with menu items such as smoked trout, marinated in a special brine and smoked in-house, or The Oly Girl, featuring sliced tofu encrusted with gluten-free bread crumbs, fried to a crisp, and served on greens with melted mozzarella. Classic grill menu items include The Cascadia Burger and fries or She's Rubenesque, a pile of slow-roasted corned beef and all the fixings on marbled rye. The D.B. Cooper is a delicious, hot mess – double burger, piled with that same slow-roasted corned beef, pickles, and more. And while it stacks high on the plate, it is perfectly easy to eat with two hands.
Specialty items include Jef's Variation on a Rib Theme (if you have not noticed, silly names are part of the fun), featuring St. Louis-style spare ribs and no BBQ sauce, only course black pepper, a blend of three salts, and a special spice glaze. Steak, seafood and blackened-chicken tortellini are a few other enticing menu samplings. Jef and Julia strive to work locally and sustainably, using Stewart's grass-fed beef for the burgers and specials and sharing leftovers with the pigs at Reed's Farm.
The desserts are all homemade by Julia with each day introducing a new and special offering such as a recent Coconut Cream and Porter (beer) Pie. Plus, there is always a gluten-free option such as her delicious, flourless chocolate torte.
The restaurant has gluten-free entrées as well and dedicates a fryer to gluten-free fried foods, so even the most sensitive can enjoy Cascadia's signature fries. Other dietary considerations include vegetarian options and a few vegan choices. A kid's menu is also available.
Chainsaw carvings of a Sasquatch and a wooden beaver add to the visual appeal and all the servers wear flannel shirts. Where kitschy stuff can get kind of overkill, Jef and Julia play the regional history and pop-culture of Cascadia just right. Wood accents and mossy greens pair perfectly with the level of upscale service and casual fine dining.
Beer and wine from the region are also available as is local kombucha on tap and coffee from Olympia Coffee Roasters. Wine cocktails are an option as well.
Jef and Julia not only strive to serve quality ingredients, they value impeccable customer service. After all, they both have decades of service industry experience under their belts. They actually met as servers at the Old Faithful Inn in Yellowstone and Julia continued to serve and bartend all through college. They have worked in four restaurants together and love the lifestyle associated with the work. This deep, working-knowledge of the industry helps them instinctively treat their staff and their customers with respect, while still having fun.
"We've just had a lot of great feedback," shares Julia. "Top to bottom, from the food to the décor, to our concept of service – which is to be a mid-priced restaurant but still have high-class service. People seem happy with what we're doing."
They also have good instincts about customer appreciation and engagement. Live music appears on the calendar a few times per month and they run Facebook contests and promotions, such as a recent contest to name the wood-carved beaver that greets customers. (Tickles was the winning name.)  Cascadia Grill will participate in Artswalk and other downtown community events and a D.B. Cooper look-a-like contest is on the horizon.
"We want quality and we want quirky," says Julia. "It's just been instinctual, it's fun and people are responding."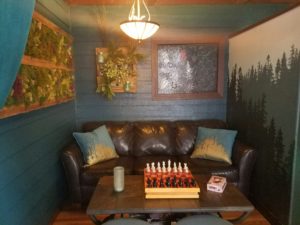 Julia even practices guerilla-style advertising where if she sees someone with a Cascadia sticker (the region or the restaurant) on their car, she will tuck a free appetizer coupon on their windshield.
Future plans for Cascadia include an extended vegan menu, Cascadia merchandise, and continued live music and entertainment.
Connect with Cascadia Grill on Facebook, by phone at 360-628-8731 , or drop by 200 4th Ave W in downtown Olympia.