Olympia's downtown has many regular faces in the community, one of whom is salsa and music extraordinaire, Jeremy Williams. His roots run through Dallas, Texas, but his talents go farther than authentic salsa. Sure, his traditional edible salsa, salsa verde, and his cranberry jalapeño salsa pack a punch, but lately he has also been bringing the heat with his natural skills in audio engineering and live sound production for musicians.

Williams grew up with a musical family. "Literally everyone and their mother on my mom's side play an instrument," Williams says. The magnitude of talent in Williams' family is strong, inevitably creating a binding lineage of musicians with an ear for anything. Even though Williams is mostly behind the scenes, orchestrating the complex nature of live sound, he does enjoy jamming on the bass guitar. Sometimes he can be seen performing at Southbay Dickerson's BBQ's "Ham Jam."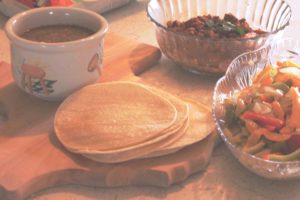 The South obviously has regulations and expectations for quality in both their food and music; Williams maintains that heart and soul with his recording and audio engineering abilities in the Pacific Northwest. Beyond the 1,500-2,000 bands and artists he has produced live sound for in Texas, he is most recently seen at The Rhythm and Rye with well-loved local artists such as DBST, Le Grotto, Dance Hall Queen, and The Rhythm and Rye's house "Jazz Jam" band, Hot Cabi.
It takes a great amount of dedication to make a living as a sound man for live shows. Williams balances three or sometimes four different jobs with various production houses in order to be his own boss and make his dream come true. This can take him to venues and gigs as far as Bend, Oregon, and as close as downtown Olympia. He currently freelances for Northwest Event Technology, PNTA Theatre Supply, Agility, and of course The Rhythm and Rye. If you ask him how he manages, he'll proudly answer, "Lots of water, Mexican candy, and power naps." This busy lifestyle may not be ideal for some people, but for Williams this life was handpicked by him. As he explains, "I can't be mad at myself because I did it to myself!"
Every Tuesday night Williams hosts and DJ's for Retro Game Night at The Rhythm and Rye. With four different TV screens to choose from, it is a gamer's paradise. Gaming platforms such as Super Nintendo, Sega Genesis, Gamecube, PlayStation 1 & 2, and more are available with various games installed, and they can be enjoyed with a cold beer or other refreshment stirred up by adored bartender, Erin Gill, for the occasion. If that is not enough of an invitation to take a break and play, there are also group games like Cards Against Humanity, Apples to Apples, and Battleship. "It's a first-come, first-serve event," says Williams, and the crowd is always welcoming and the area cozy. Tuesdays are also industry nights for Olympia's restaurant workers at The Rhythm and Rye, the perfect spot to kick it on a mellow "Industry Monday."
Jeremy Williams has only been settled in Olympia for a little under a year, but his involvement with the downtown music scene reflects years of experience and passion. His favorite part of his job, as he suggests, "…is the people you meet, your overall interactions, and just the thrill of the business itself." He has adapted effectively into the community, introducing the Pacific Northwest to his Southern hospitality.
To listen to short samples of a few of the artists whom Williams has produced, you can visit his Sound Cloud. For further production inquiries, please contact Jeremy Williams and be sure to get your game fix in Tuesday nights at The Rhythm and Rye in downtown Olympia.