Barbara and Bill McGregor of Olympia have been foster parents for over 35 years. When asked how many children have come through their doors, Barbara chuckles. "I couldn't even begin to count, hundreds and hundreds." Recalling their first placement, the McGregors were in charge of twin, two-year-old boys. "The gal at the placement desk said, 'I figured if you could do that, you could do anything.' She was right," Barbara explains.

Barbara is licensed through the Department of Social and Health Services. "Even though there are two ways of becoming foster parents, either through the state or a private agency," Barbara emphasizes, "they're all the same kids." A few local private placement agencies are Olive Crest, A Place Called Hope, and Catholic Community Services.
"Most of our placements are the result of a medical issue," Bill explains, elaborating on the children they have cared for, "and those require a lot of different types of care."
"Our first medical baby had a trach [eotomy], which involved Seattle Children's Hospital." Over the years the McGregors have learned many medical skills from working with feeding tubes to operating oxygen tanks to administering medications. They've also altered their home to better serve the children who come through their doors. "We weren't initially taking kids with wheel chairs," Barbara recalls. "Our hallways were wide enough, but our doors were not. But then we had three kids in wheel chairs. So, when we remodeled our home, we put in wider doors. We once had a boy in a wheel chair who required total care, and getting him in a bathtub was impossible. So, we had our bathroom redone for handicapped accessibility. After we acquired a bath chair, we could just wheel him in."
The McGregors also provide emergent, receiving, and respite care to foster children. And the need is great. The current foster care system needs foster parents for kids in all situations. "They're having a real problem finding homes for kids. If they don't find a bed for a kid, sometimes the social workers have to stay in a hotel with them. And that's not the best of situations. So, we'll get a call during the night, and they'll say what they have and what the need is, and ask if we can take another kid. We will all try to make it work."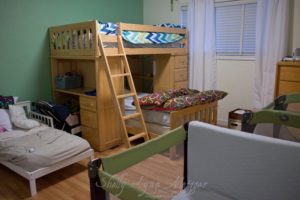 Because the kids must each have their own separate bed, the McGregors have set their home up to be ready for nearly any call. "We have 11 beds in our house. Trundles do not count, nor do fold-out beds, but we do have multiple types so they are age appropriate for whomever we get. They aren't all always made and ready, but they're there for when they're needed."
Bill qualifies Barbara as the main caregiver saying, "I am the support person." Barbara is quick to add, however, "The kids who come into care really respond to Bill. They really love the male kind of thing and it's nice to see. I don't think they receive a whole lot of positive parenting, especially from the men in their lives. But, they have lots of fun with Bill. And it's amazing."
The foster care system has grown and changed over time. "When we first came into fostering, you couldn't leave foster kids with anyone else," Barbara explains. "Not your friends and not even a church nursery. If an emergency came up, you either sank or swam because everyone had to have background checks. But, recently the state established a policy where if you know somebody you trust, you can leave the foster kids with that person for up to 72 hours. That has been a lot of help."
At the time of our interview, Bill and Barbara had recently taken in twin baby girls. The girls had a long-term family who were excited to keep them but had to wait for some paperwork to finalize before they could make the permanent placement. Due to the state's new policy, the McGregors explain how they created a positive experience for both the new family and the girls. "We could give them the opportunity to parent their children. They came every night for two weeks and bathed, changed and dressed the girls," shares Barbara.
"We enjoy working with parents to help train them," she continues, noting how much she enjoys mentoring new foster parents. Specifically, she could help teach them how to swaddle, when to rely on pacifiers and how to feed the girls. "Then, they would take the babies on Friday night and bring them back on Sunday night." Clearly, this helps create a nice transition for when the last bit of paperwork is finalized.
Bill and Barbara want to spread the word about being a foster parent. "Of course we're always encouraging families to license to become foster parents. The time isn't always right for everyone, but there is always something people in the community can do." Bill shares a ministry their place of worship, South Sound Church, has started hosting. "There's a new clothing bank at our church that's being run by a couple of different churches with donations and volunteers and ours is providing the space," he says. Barbara adds, "They decided it was easier to unite and work together to have one big support group."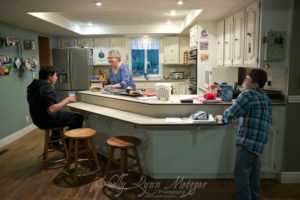 The clothing bank is specifically for families who need supplies for foster kids. "Once a month, Evergreen Church hosts a foster parent social group," Barbara says. "They serve a dinner where you can meet each other and discuss fostering and in December 2016 they offered a babysitting event for 2-3 hours so foster parents could go out and shop. We don't get those kinds of things happening very often in the community. It's a very big deal."
Learn more online about becoming a foster parent or call 253-820-4198 to arrange a time to volunteer or drop off donations with South Sound Church, 1416 26th Ave NE, Olympia, WA 98506.