There are many paths for those on a spiritual quest. There are scads of books and tapes by philosophers, theologians and mystics. Find inspiration from the Dalai Lama or Pope Francis. Listen to TED Talks or sit in your garden. You can also enhance your experience by making a connection with Olympia's Rabbi Seth Goldstein.
As Rabbi Seth explains, "Ultimately I think religion is about making meaning in your life." This is not about converting to the Jewish faith or any other specific religious tradition. It is about creating meaningful spiritual conversations and addressing current life issues in a positive and constructive way. His impetus as a spiritual leader and teacher is to make such opportunities available for everyone.
Goldstein has been serving the Temple Beth Hatfiloh community for the past 13 years. Recently named as one of 2016 America's Most Inspiring Rabbis, Rabbi Seth is known for being inclusive, helpful and thoughtful. I asked if he knew why he is so well liked. He seemed not to know but responded, "I'm generally not dogmatic." That characteristic is known to be in short supply in many religious settings. Goldstein described his approach as liberal and with an open point of view. He garners the collective wisdom of the sacred texts, such as the Torah and synthesizes that for relevance in today's world.
More than once Rabbi Seth noted that he wants to "meet people where they are." That means he listens. You don't have to share the same beliefs for a meaningful conversation. Together there is a search for common ground. Goldstein has turned to social media to cast out to a larger, not necessarily Jewish, audience.
On Friday mornings he uploads his podcast called Torah tl;dr. It's a one-minute distillation of an aspect of the week's Torah portion. Goldstein knew that the Torah might represent something too challenging to read. Hence, tl;dr – too long, didn't read (internet slang) came to his mind. Goldstein is humorous, not just open-minded. The podcast offers one pearl to pluck from the week's text. Goldstein has found the weekly podcast to be a great personal exercise in digesting the lesson and pulling out one idea. Along the way he increased his technology knowledge, bought a better microphone, and learned how to do his own editing.
Believing that people are "spiritually interested and they want to connect," Goldstein continues to reach out in creative ways.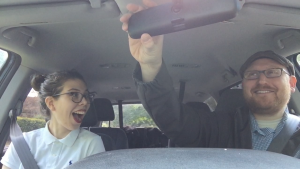 Ever the innovator, Rabbi Seth turned his carpool rides with the temple's (now former) Community Engagement Coordinator Kirsten Williamson into a web series. Since Kirsten lived near Goldstein's son's school, he would give her a ride to work. "We would have interesting and engaging conversations on spirituality in the office and the car," he says. Inspired by the depth and content they covered in their short rides, as well as a general desire to delve into new media, one day Rabbi Seth set his phone on the dashboard as a test. The conversations were unedited and unplanned, and therefore some got scrapped. Using an iPhone app, Rabbi Seth created an opening sequence and added titles to the videos. Watch Carpooling with Rabbi.  There are two seasons with 12 episodes each, with a new season to come. Two of their favorite episodes are 'Grief' and 'Not OK.'
If you'd rather read than listen, check out Goldstein's musings on his blog, Rabbi 360. The 360 portion of the blog name is a nod to looking in all directions including political, cultural and spiritual observations. For Goldstein, these are often connected. The spiritual aspects go past party politics. He also used 360 as a connection to the community's area code.
Anyone can attend a service at the Temple Beth Hatfiloh. Shabbat are weekly on Friday evenings with rotating study groups on Saturday mornings. Their website has schedules and details of other activities. This past summer the Temple and Unity of Olympia co-sponsored a visit by the Interfaith Amigos. The free, public event promoted interfaith diversity and recognizing common ground.
Rooted in his own religion, Rabbi Seth Goldstein is open and receptive to having conversations that support the well-being of our local community – and then the world. He wants to share tools for your own spiritual exploration.
For Rabbi Seth Goldstein's contact information, click here.