As Justin Ridgeway and Jeffrey Harn swim up and down the pool during another challenging practice with North Thurston High School's swim team, they're driven by some common goals.
These two juniors are both shooting for a return trip to the state meet. Both are already swimming state qualifying times and both are driven to do their best.

"I just always want to swim as fast as I can," Ridgeway said during a recent practice.
And these two Rams also have a common inspiration – their older brothers. It's a family affair for Ridgeway and Harn.
"Swimming is in their genes," said Jak Ayres, North Thurston's swim coach. "Jeffrey's mom and dad swam. They're really supportive parents."
Ridgeway has two older brothers – Tyler and Connor Ridgeway – that swam for Ayres and the Rams. Tyler graduated in 2013 and Connor graduated in 2015, both making it to state.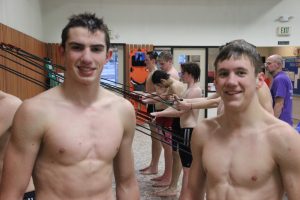 "Connor and I always swam the same stroke," Ridgeway said. "He always pushed me to do better and I've always wanted to see if I could beat him."
Harn's older brother, Scott, graduated five years ago, setting a record on a relay and coming within a tenth of a second of breaking a school record in the 50-yard freestyle. Jeffrey's involvement with swimming – he started swimming on a club team when he was in second grade – was because his brother was already on a team.
"I guess my parents threw me in there because I was too hyper," Harn said with a smile. "And also because Scott was fine and he liked it."
It wasn't long before Harn, whose dad, John, swam at Timberline High School back in the 1980s, discovered that he liked swimming, too. And he was also good at it. Now, Harn is trying to do something his brother didn't do – break the 200-yard freestyle record.
"He wasn't able to beat that record," Harn said with a chuckle. "I want to see if I can. Rub it in his face."
There is, as Harn said, a "slight" sibling rivalry. It's not like Scott is challenging his brother today, saying he'll never top him.
"The main goal is break the record and go to state," he said.
But Harn's goal in the pool doesn't eclipse what he does in the classroom. He's not so driven to swim that he forgets about his studies. He's got a 4.0 cumulative grade point average. He's never had a "B" on his report card, not from first grade to high school.
"I just usually try to do my homework before I do anything else," Harn said.
Like Harn, Ridgeway is a dedicated swimmer, swimming year around. But the cliché of him being "big hearted" has a double meaning for Ridgeway. In addition to his commitment, Ridgeway has an enlarged heart. It's called a dilated aortic root.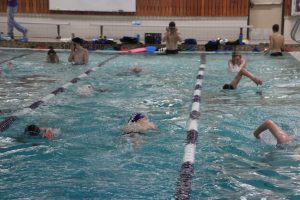 "The valve that goes off the top of my heart is a lot bigger than it should be," Ridgeway said. "But I've been taking meds and hopefully I'll be able to get normal."
Surgery isn't an option.
"We're hoping that it stays the same size and I will grow," Ridgeway said.
With doctor's approval, Ridgeway has never considered not turning out for swimming because of his heart issues. It's actually had an opposite effect.
"It's always pushed me," Ridgeway said. "Even though I have a few issues I'm still going to try to give it my 100-percent, as much as I can."
Like Ridgeway, Harn is all about hard work. He's willing to pay the price for glory.
"It gives me something to do," Harn said when he was asked what he likes about swimming. "It gives me exercise and it gives me a goal. It's not fun all the time because it's hard work, but that hard work is good. It teaches me a lot of life's lessons."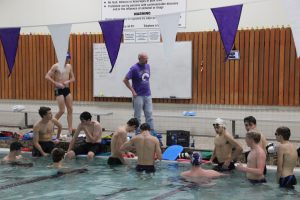 And that life lesson is that hard work equals success. That's a message Ayres, who is assisted by Laurel Smith, frequently shares with his swimmers.
"Working hard to achieve a goal, that's one of our big deals," Ayres said. "We talk a lot about achieving goals."
Ayres will sometimes share his own adventurous stories about sailing around the world alone in his 34-foot sailboat. During his six-year journey around the world, he lived alone on a small Pacific island for three months, survived monstrous storms while going around the Cape of Good Hope and did some scuba diving off the coast of Australia as part of a research study on dolphins for eight months. He uses his experiences as life lessons for his swimmers.
"We talk about that," Ayres said. "They love those stories."
Logan Anderton, a senior on Ayres' swim team this year, has a story to share about his own journey. Last summer, he went nearly three weeks on a humanitarian trip to Fiji with his church. He helped build septic tanks and bathrooms in a primitive village.
"The amount of poverty shocked me," Anderton said, but noted he was also surprised by the attitude of the people there.
"They were happy, even though they were living in these tin sheds," he said. "They were so joyful, so full of love. It just really impressed me."