Lincoln Creek Lumber has deep ties to Thurston and Lewis counties. Like the roots of the massive trees that brought their family west in the early 1900s, these ties have kept their business going strong for over a century. What began as a lumber mill in Centralia, is now a multi-faceted business, which serves customers up and down the I-5 corridor.
When the Thompson family began their lumber mill in the Lincoln Creek Valley of Centralia they were committed to serving their customers. In the 1930s the Depression shut down many of the area mills. Lincoln Creek found themselves in the resale lumber business, buying the stock of nearby closing mills and selling it to their own customers. This creative thinking kept their business alive and growing at a time when many others were unable to stay afloat.
In the 1940s, they opened their second location on Highway 99. At the time it was rural Centralia. Modern day Centralia has grown to meet the store and now Lincoln Creek Lumber is in town. The newest location, in Tumwater just off I-5 on 93rd Avenue recently celebrated it's grand re-opening during the first weekend of December. I visited the store during the event and purchased a set of Christmas lights for the newly cut tree atop the car. We enjoyed a turkey sandwich and found their selection of Christmas décor to be far better than one might expect at your local hardware store.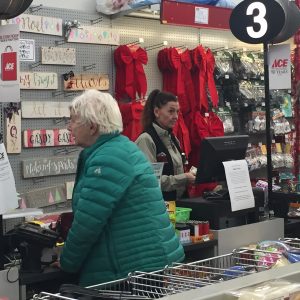 The newly remodeled store is a complete redesign, every aisle has been moved and square footage added to accommodate several new product lines. The Ace Hardware dealer is now carrying Stihl lawn equipment, an extensive line of Carhart clothing and a great assortment of BBQs including the Traeger wood-fired grills and smokers and the ever-popular Big Green Egg.
It is important to note that each Ace Hardware location is independently operated. It is truly the best of both worlds. As a customer you are benefitting from a large buying group that keeps prices low while supporting a local, family business. An Ace Hardware store employs far more people per square foot than a typical big box national chain store. The employees work and live in the community and the dollars you spend stay local. Lincoln Creek Lumber employs over 100 people throughout their four locations.
I sat down with Bob Thompson, a fifth generation owner of Lincoln Creek Lumber to learn more about their business and how they have managed to be so successful for over a century. "We have many trucks running all day delivering supplies from Bremerton to Woodland, Oregon." Thompson told me. "We specialize in supplies for everyone from custom builders to individual homeowners."
Lincoln Creek Lumber can supply everything you need to build a house from framing lumber, decking, siding, and nails to windows, doors, and finish hardware. "Our employees are so knowledgeable and can help develop a supply list for almost any home project and we deliver," Thompson tells me. Lincoln Creek Lumber purchases much of its lumber from Pacific Northwest sources such as Boise Cascade, Weyerhauser and Simpson.
Bob grew up in Centralia and spent much of his childhood working in the stores. He began sweeping floors and by the age of 16 was working full-time when not in school. He attended the University of Washington Foster School of Business and worked in Seattle for a few years before moving back to the Olympia area. Today Bob runs Lincoln Creek Lumber along with his 77-year-old father who still comes into the office daily and is very much involved in daily operations.
Bob and his wife are raising 10-year-old twin daughters who love coming into the hardware store. "They always end up in the nuts and bolts section," he says. "Recently they built an entire chess set out of nuts and bolts, all the kings, queens and pawns were carefully created out of hardware from the store." Taking care of family extends to their customers. "It is local people that support us and we want to support them," Thompson adds.
Lincoln Creek Lumber made a large donation to the Hands On Children's Museum to help build the Lighthouse attraction on the Outdoor Discovery Center. The company has also donated to HOCM's Sand in the City summer event. Support has also been given to the Lincoln school play area, garden and wetlands observation deck, as well as large donations to Centralia College. Lincoln Creek Lumber has also assisted local ball field dugouts, field houses and many Eagle Scout projects.
"We love living in the Pacific Northwest," Thompson says in summary. "People have a great attitude about getting things done rain or shine."
Lincoln Creek Lumber Company
2421 93rd Avenue SW
360-956-9147
Open daily 7:00 a.m. – 6:00 p.m.
Sponsored