Dave Heywood joined the staff at Black Hills High School 20 years ago with no intention of taking over the theater department. However, five years later, he found himself running it.
Heywood's love for theater started young. Growing up in Montreal, Canada, he would often attend plays with his father and, in seventh grade, he took his first step onto the stage. Heywood continued acting through high school and participated in theater as a camp counselor. When he got to college, Heywood moved away from theater and into other things. However, his love for theatre was re-ignited when he began traveling internationally, seeing performances on Broadway and in London's West End.
Heywood trained to be a teacher at McGill University in Montreal where he met his wife and, from there, began to teach elementary and high school students about theater. He taught in Montreal for eight years before moving to Washington in the fall of 1997 to teach French and English at Black Hills High School, where he now teaches US History and Theater.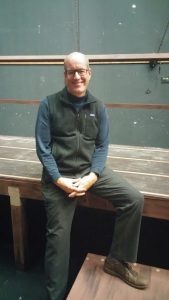 Heywood says, "When I heard the theater job had opened up, I jumped at the chance. I started teaching because I love learning and I wanted to help young people learn also."
If you've ever seen live theater, you know how effortless it may all seem. But behind the curtains and before the shows, it's not always that way. For Heywood, the most challenging part of putting on a show is that there will never be enough time to do everything you want to do. When you're a high school theater director, you do a lot of different jobs: producer, stage director, costume design, set design, lights, sounds, dramaturg and most importantly, inspirational leader.
Theater is an extracurricular for Heywood, directing, at minimum, three performances per year, all on top of the teaching duties of his school day. After 15 years on the job, he admits that even though he knows a lot about directing, there is always so much he could learn. Modern theater is ever evolving, and keeping up is a challenge. To get where he is now, Heywood says he has had to work on being able to trust his own creativity and vision to put on the best show possible.
"I spend a lot of time preparing, listening to the show and reading the script – overall immersing myself in it," says Heywood of his preparation strategy.
Heywood has put on dozens of shows in his time at BHHS and sites a few favorites including "Honk" and "Seussical." He really enjoys collaborating with the choir teacher, Mrs. Alviar, and the band teacher, Mr. Landowski, to put together ideas and share talents. Heywood explains it can be harder to put on musicals, integrating not only music but also dance requiring careful coordination, but he enjoys the challenge. This year, Black Hills High School will be performing "Music Man" as their winter musical. With "Music Man," Heywood thinks the audience will enjoy wonderful songs, fun characters and a heartwarming story for all ages.
Nolan Harris, a senior at Black Hills who has participated in theater for four years says his favorite show is last years production of "Grease" in which he played the character "Doody." The show was high energy and he made great friends he made during the production. In his seven years of theater, Harris has learned that confidence is key and Heywood has played a very important part in that. Harris and his peers become stronger actors through creative freedom, whether that be through acting, playwriting, or directing.
"Heywood is a fantastic person and an even better director. He has a certain character to him that is hard to explain but completely unique," says Harris.
When asked about Harris as a student, Heywood says, "It's been fun to watch Nolan grow as an actor and as a person. Nolan is a very talented young man, and it is nice to be able to give him and his fellow peers roles where they can continue to explore their talents."
Above all else, Heywood values his students' learning. His success is measured not by money or crowds, but by the experiences his students learn under his leadership. He is proud of the growth he sees in his students and himself. He believes his success comes from producing different types of plays with different people while continuously finding new ways to present the plays. To put on successful shows he believes it is important to not only keep an eye on the big picture, but to also be very detail oriented.
"The audience will generally only remember the big picture, but it is the small details that allow the big picture to be successful," he explains.
His personal mission statement is kindness. On a daily basis Heywood reminds himself and others to be kind and to have fun in what they are doing. He encourages everyone to join theater because the more people involved, the richer the experience for everyone.
"If you want to connect with yourself and others, you have to be kind, there is no other way," he shares.
The Black Hills Theater's next performance is "Music Man" running February 2 – 4 and 9 – 11. Whether you're on the stage or in the audience, the magic of live theater will come alive under the direction of Black Hill's own Dave Heywood.