The King County Aquatic Center can be an intimidating venue if you've never competed there before.
It's far from your typical high school swim meet with its 2,500-seat facility overlooking a state-of-the-art site that has played host to numerous national and international events, including multiple Olympic Trials.

Sometimes when divers advance to the state meet, it's not the complexity of the dives that ultimately get them, it's the overwhelming surroundings which are definitely not the norm for most athletes.
Black Hills High School junior CeCe Pennella had been there before, completing in the Class 2A state meet during her freshman and sophomore campaigns.
"Last year I don't think the comfort level was quite there for her," Wolves coach Henry Valz stated about Pennella's demeanor at last year's state meet.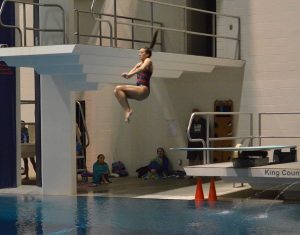 Since the location wasn't changing any time soon, Pennella decided she needed to become more content with the setting.
She did this by turning the location into her home pool.
"She dove (at the King County Aquatic Center) her first two years, which is awesome, but what changed for her this year was she started doing club up here," Valz said. "She actually drove herself up here a couple days a week and got on that board every single time. This is almost her home board now. She did that just to get ready for this meet."
The decision paid off for Pennella as she finished third overall at the state meet, posting a final total of 311.80.
"This year she looked incredible in warm ups," Valz said. "I know Black Hills dive coach Heather Wilder was really happy. CeCe in my opinion is one of the best divers at this meet."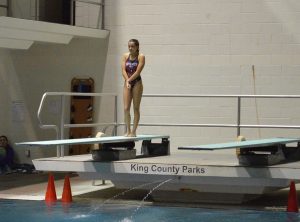 Liberty of Issaquah senior Belle Wong won the event with a score of 338.80. Cassii Middlestead of Port Angeles was second (335.25), while Tumwater sophomore Claire Barnard was seventh (258.15).
It was a 10-place improved for Pennella over her sophomore season when she finished 13th overall at the state meet. She also finished 10th as a freshman.
"CeCe is so much fun. She just exudes fun," Valz said. "I call her spunky. I'm not sure if she appreciates that, but she's our little firecracker. She's always ready to go and always having fun at it."
Pennella was one of two Wolves divers to compete at state as Jacqueline Pilon advanced to the semifinal round, but failed to make the finals cut, finishing 18th overall with 125.60.
Black Hills freshman Emma Prybylski had a successful first state meet. The newcomer finished 10th in the 100 back (1:03.45), 13th in the 50 free (26:31) and was a member of the Wolves' 200 medley relay team which advanced the second day of competition before finishing 15th overall.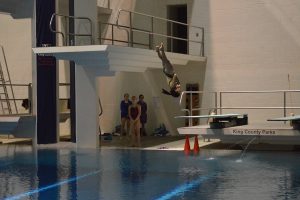 "Emma is an incredible sprinter and backstroker. She led off our relay with the fourth fastest time in the pool. It was very cool to watch (the relay team) gel this season," Valz said. "They were here last year for the 200 medley relay. I think they came in at 2:13. They swam a 2:03 today. They trimmed 10 seconds off their time, which is great. The goal coming in was to make it to the second day and we're there."
Joining Prybylski on the relay team was junior Leah Rietema and sophomores Brielle Bryan and Kalli Bishop.
3A STATE MEET
North Thurston's Maya Lawson-Rivera and Timberline's Hannah Barker both made trips to the winner's podium during the 3A state swimming and diving meet.
Lawson-Rivera was a dual-medal winner as the senior got up for seventh in the 200 IM (2:12.58) and finished eighth place in the 100 breaststroke (1:07.03).
It marks the second consecutive year Lawson-Rivera has placed at state in both events. She finished third in both the 200 IM and 100 breaststroke as a junior.
Barker, a junior, finished third in the 100 backstroke, stopping the clock in a speedy 57.42. Bellevue freshman Janelle Rudolph won the event, posting a time of 56.34, while Lakeside's Isabel Chien (57.29) inched out Barker for second place. North Thurston sophomore Brooke Kuebler finished 13th (1:01.77).