Tre'Vonne Dorfner waltzed into the end zone following his third quarter interception and was immediately mobbed by his teammates.
It was a celebration nearly two decades in the making.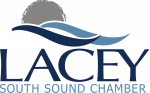 Dorfner scored three times, Ryan Blash caught a pair of touchdown passes from Kelle Sanders and the River Ridge High School football team won its first state playoff game since 1998 after beating W.F. West, 35-7, in the first round of the Class 2A state tournament at South Sound Stadium.
"I think 18 years is long enough," senior linebacker Zack Carter said about the Hawks' span between state postseason victories. "This is way overdue."
River Ridge (9-1) advances to the quarterfinals where the Hawks will play undefeated Liberty of Issaquah at Renton Memorial Stadium on November 19.
River Ridge's last state playoff victory came in the first round of the 4A tournament in 1998 where they defeated North Kitsap, 30-14.
"This feels amazing," Carter said, "but the road's not over yet. Now we just have to prepare for next week."
The Hawks advanced to the state playoffs for just the second time in school history two years ago, losing to Lynden, 41-21, in the opening round.
They made it consecutive state postseason appearances last year, but saw their undefeated season come to an end against North Kitsap, 17-6.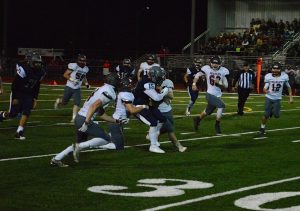 Against the Bearcats, it was pretty much all Hawks from the opening bell.
Sanders, a Washington State University commit, tossed a 57-yard touchdown pass from Blash to kick off the scoring for the Hawks. The duo later connected on a 61-yard TD pass later in the first quarter to put River Ridge up two scores.
The passing attack took a backseat to River Ridge's ground game in the second quarter as Dorfner ripped off touchdown runs of 67 and 29 yards to put the Hawks up 28-7 at the intermission.
"At half time I reminded them that the last time we were up by two scores at South Sound Stadium we lost because we didn't go out and play the second half," head coach Steve Schultz said, referring to his team's 28-27 heartbreaking loss to Franklin Piece in the 2A South Puget Sound League championship game, which the visiting Cardinals won on a last-second Hail Mary. "They got fired up in that locker room after I said that to them. They immediately shut (W.F. West) down on defense during their first possession of the second half. They did a great job."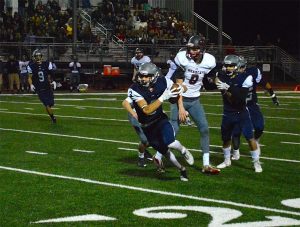 Dorfner's 20-yard interception return proved to be the only score in the second half as River Ridge's defense took control of the contest.
"The talent is there, but the leadership is also there. They're an absolute dream to coach," Schultz said about his players. "In practice they work so hard. They're very coachable and they listen. They're just awesome to be around. The best teams that I have ever coached have always had great leadership; and the leadership is incredible on this team."
The last time River Ridge advanced this far in football the team bowed out in the 4A state quarterfinals, losing to Cascade of Everett, 42-13.
It was the one time since the school opened in 1993 that basketball season was briefly put on hold.
"It can wait," Carter said about the postponed start of winter sports. "We just want to keep this going. I just want to keep making memoires every day – whether that's at practice or in game. I just want to make memories out here with my brothers for as long as I can. It's been amazingly fun. Every day I'm out here I'm laughing and smiling. If I have a bad day at school I come out here and my day immediately turns around."
Carter is not alone with that thinking as those sentiments are expressed up and down the roster.
"We're a brotherhood. We're out there fighting for each other," said senior lineman Mark Valerio. "I just want to play in as many more games as I can this season."
The Hawks face a Patriots team that brings a spotless 10-0 record into the quarterfinal matchup. Liberty defeated 2A SPSL member Steilacoom in the first round, 20-13. River Ridge knocked off the Sentiels, 47-27, during the second week of the regular season with Dorfner finding the end zone five times.
"They're a darn good football. They're undefeated and we have to go up there," Schultz said. "I've gone up and watched them the last two weeks. They get a lot of momentum behind them. They do well. They show up and play."
A victory would place the Hawks in the state semifinals for the first time where they would play the winner between Ellensburg (10-1) and Sedro-Woolley (9-2).