Let's face it, some days you spend more time in your car than in your house.  With our changeable Northwest weather and hectic lifestyles, the new Volkswagen Golf Alltrack can make that time safe, stylish, and more than a little sexy.
In 2015 alone, more than 68 million cars were produced worldwide.  But few are as highly anticipated as the new 2017 Volkswagen Golf Alltrack, which arrives at local dealerships in November.  Praised by Forbes as "the little wagon that could," their review echoes that of Kelley Blue Book "as more buyers choose crossover SUVs as an alternative to sedans, the new VW Golf Alltrack wagon is a welcome alternative to both.  It offers the fun-to-drive nature of a sporty sedan with the roominess of a wagon and yes, even the off-road chops of a small SUV."
John Paine, General Sales Manager at Volkswagen of Olympia, is excited for this new arrival: "The Alltrack is a very stylish, yet sophisticated wagon that is more than ready for adventure.  It offers an affordable yet upscale alternative to existing all-wheel drive wagons that are on the market.  We have had customers asking for this vehicle for years and awaiting the release.  The people have spoken and Volkswagen was listening."
The Alltrack comes in S, SE, and SEL models which all come with a 1.8-liter Turbo engine.  At Volkswagen of Olympia, all three models start at the manufacturer's suggested retail price (MSRP) of $26,950 with no added market adjustments or mark-ups.
The VW of Olympia team are currently fielding interested buyers in advance; "People are putting their names on these cars before they arrive because of a limited initial allocation given to the dealers," admits Paine.
Under the hood promises to be as attractive as the outside.  Gearheads and outdoorsy-types alike will appreciate the "1.8L 4-cylinder engine with 170 horsepower and 199 ft-lb of torque with great mid-range power.  0-60 faster than its competitors Outback or Crosstrek.  The handling is exceptional and with a sturdy feel and plenty of grip, while still boasting a VW dual clutch direct-shift gearbox (DSG) transmission for that smooth seamless shifting Volkswagen owners have come to know and love.  It is a fantastic addition to the Golf family which boasts the Motor Trend and North American Car of the Year when they launched it in 2015," says Paine.
Matt Degen, of Kelley Blue Book, praised the Alltrack saying "Whether it be highways, winding roads and city streets, the Alltrack is a versatile soul that's dynamic yet compliant.  On freeways, it's a comfortable and quiet cruiser, in town mild mannered and nimble.  On twisty roads, it's a feisty and dynamic playmate, especially when switched to sport mode.  None of this is exactly a revelation given its mechanicals and chassis mirror those of the respected Golf Sportwagen."
Car and Driver appreciated that "The raised suspension doesn't deteriorate the Golf's athletic attitude but provides 6.9 inches of ground clearance.  Inside the refined cabin, a 6.5-inch touchscreen features Apple CarPlay and Android Auto; adaptive cruise control and automated emergency braking are optional."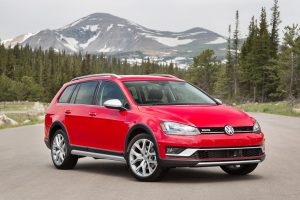 Volkswagen of Olympia strives to be a hub of quality in products, services, and community spirit.  Introducing us to the perfect Northwest car without inflating prices is just another way they keep our region rolling.
Visit the showroom at 2107 Cooper Point Road SW in Olympia or online at www.VolkswagenofOlympia.com.  You can call John and his team at 360-350-6262 with questions, to schedule a test drive, or discuss financing options.  But don't wait too long, the Alltrack is built to move!
Sponsored