Soroptimist International of Olympia has a 75-year legacy of helping women and girls in our community. From the Latin for "best for women," this aptly named International Service Club for Women began its local chapter in 1941 with the mission "to improve the lives of women and girls through programs leading to social and economic empowerment."

For over 35 years, Rose Ann Walker has been a stalwart member, serving as president, past president, and for the last several years as treasurer. Rose Ann, who has worked in title management for 39 years, gave me perspective on the history of the club. "When a friend at work suggested I join the club in 1985, I felt it was a good opportunity to use my skills to give back to the community." At that time the club, like other service clubs for women in the area, boasted a large membership.
"However as the pace of women's lives quickened, many women are more interested in groups that focus on networking rather than service," Rose Ann said, "but we are recruiting some new enthusiastic members." Karen Hall is one of those members who joined five years ago.
Karen was a natural fit for a leadership role in the organization after many years leading both Girl Scout troops and Girl Scout Leaders. Karen has worked as president and past president of Soroptimist International of Olympia and is currently fundraising chair for the Northwest Region. "We have a core group of about 33 members currently and among those are younger women, many of whom are legacy members." One young new member was part of a high school spin-off group of a local Soroptimist club in her area.
When the Soroptimist International of Olympia celebrates its 75th Anniversary on October 15 at Pellegrino's from 11:00 a.m. – 1:00 p.m., they will showcase past accomplishments and exciting future projects. Education is a key component for social and economic empowerment, and it is at the center of the organization's work.
Their many pronged approach to providing educational opportunities for local women includes two continuing endowments that fund a yearly scholarship for a student at South Puget Sound Community College and one at The Evergreen State College. In addition, a unique education award called Live Your Dream provides an opportunity for a low-income woman who is the sole breadwinner for her family to continue her education at any level. What is additionally exemplary about this award is that it can be renewed if the recipient is succeeding. Mara O'Reilly, who is studying to be a paralegal, is the current Live Your Dream (LYD) recipient. Also in the paralegal program, Khrys Kayne is the LYD Continuation award winner, and she is currently employed as a Legal Assistant and also is a Guardian Ad Litem.
Starting a focus on younger women and girls is equally important. At the middle school level they support Expanding Your Horizons, a local science and math fair that encourages girls to pursue careers in STEM (science, technology engineering and math) fields. They also provide tuition for at-risk middle school girls to attend the local YWCA Girls Without Limits program offering gender-responsive STEM training.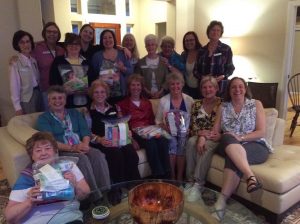 Providing comfort packs is also supporting young people in need by maintaining a supply of backpacks for children who are moved into foster care and may have to leave their homes without personal hygiene items. Youth volunteers are also a focus, and exceptional volunteers are given special recognition.
To continue all this amazing work, fundraising is essential. Rose Ann listed several past events: annual antique shows at the Thurston County Fairgrounds, fashion shows at Indian Summer Golf and Country Club and wine tasting Events at the Lacey Community Center. Karen told me that the fundraiser for 2017 had just been selected. "It will be called South Sound Exceptional Women to be held at the Indian Summer Golf and Country Club on Friday, May 5 at 6:00 p.m.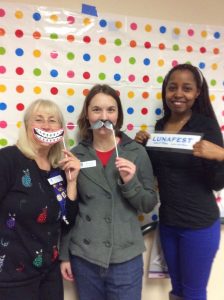 Local businesses will be asked to nominate a woman within their organization who deserves recognition for service work, volunteering, or other outstanding evidence of giving back to the community," she said. It is not a competitive award, and all the nominees will be honored at the dinner.
Coming up soon is a smaller fundraiser that began last year – Lunafest, which presents a series of Short Films By, For, and About Women. It was so successful, the new Lunafest Touring Film Festival films for 2016 will be presented on Saturday, November 12 at 5:00 p.m. at South Puget Sound Community College, Building 26, Room 105.
It is wonderful to have such a dedicated group of women helping women in our community for 75 years! For more information, find Soroptomist International of Olympia on Facebook or Twitter or email at siolympia@soroptimist.net.