When Jerry Shaw, President & CEO of Anchor Bank asked the South Puget Sound Habitat for Humanity Executive Director Curt Andino how the local bank could better help the community, it seemed like a simple question. And really, the inquiry was a genuine, straightforward curiosity. Yet the answer was unique, resulting in a pioneering method in which to interact with a nonprofit. Anchor Bank became the founding sponsor of the Habitat for Humanity Partner Plus Program, which subsequently has led the homeownership nonprofit organization to a 500% increase in family outreach and has more than doubled the number of homes in its current building cycle.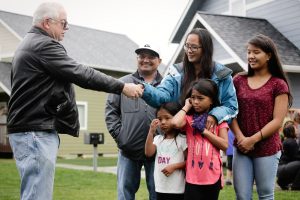 Since it's founding in 1989, South Puget Sound Habitat for Humanity has built 55 homes in Thurston County. The average building cycle has yielded two to three homes annually. Yet most recently, six families were selected for homeownership and the foundation poured for six houses. Never in the history of South Puget Sound Habitat for Humanity have they been able to facilitate homeownership to this many families at one given time. The ability to accomplish this increased level of service has been a direct outcome of the partnership with Anchor Bank.
"South Puget Sound Habitat for Humanity has the strongest homeownership program available for our qualifying applicants. Now our partnership with Anchor Bank increases our capacity to grow and serve more people. We can really only achieve this level of success through community partners like Anchor Bank," shares Shawna Dutton, Marketing/Outreach Supervisor for South Puget Sound Habitat for Humanity.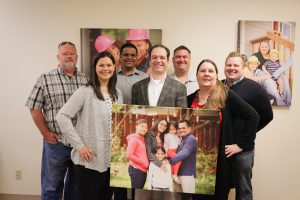 The Habitat for Humanity of Thurston County Partner Plus Program is a funded sponsorship position from Anchor Bank that enables Habitat for Humanity to focus a staff member entirely upon outreach, education and homeownership readiness for very low-income families in Thurston County. Anchor Bank just renewed its third year of the Partner Plus Program sponsorship, which is producing significant change within Thurston County regarding educational opportunities, health impact and increase in property tax revenue.
Sam Newberry, Anchor Bank Vice President for Sales & Marketing shares, "At Anchor Bank, our strong commitment to community development reflects one of our core values as a company. In an effort to promote home ownership, make housing affordable and to improve the quality of life for residents of Thurston County, Anchor Bank will be partnering with Habitat for Humanity Partner Plus Program for a third year. This program enables local families in need to become homeowners, promotes activities that improve economic stability and quality of life conditions in our local communities, and Anchor Bank is proud to be a part of it."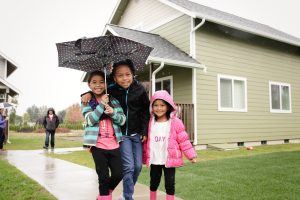 Dutton adds, "Not only has Anchor Bank renewed their sponsorship for the third year in a row but Melissa Stone serves on the South Puget Sound Habitat for Humanity Board. She offers her leadership as well as her passion for homeownership. Sam has also been a great ambassador for Habitat for Humanity, committed to keeping the Partner Plus Program going. And President Shaw truly stands behind homeownership. He has done everything from digging post holes to home dedication. In fact, he had the honor of handing of the keys to the Cruz family in our most recent home dedication event. It is a life changing moment when our Partner Families receive the keys to their new home. Celebrating our success with community sponsors and family partners is an incredible experience for all."
South Puget Sound Habitat for Humanity seeks to eliminate substandard, unsafe, unaffordable housing in Thurston County. The nonprofit organization reports that stronger families create stability and a stable home has a direct positive impact on children's health and educational success. They are focused on creating homes for ownership with local hardworking individuals and families that meet the income requirements. Homes are sold to Partner Families at no profit and are financed by a 0% interest 25-30 year mortgage. The mortgage payments create a refund that is used to construct future homes for local families in need. Families build equity in the homes, stay an average of 8.5 years, and pay taxes. In the last ten years, homeowners have paid over $800,000 in property taxes for Thurston County.
Andino shares, "Nothing takes your breath away more than seeing the difference that homeownership makes in our Partner Families' lives. These are the hardworking families in Thurston County who have sometimes experienced an unforeseen setback or simply cannot afford a home because of financing barriers. Yet they are simply looking for stability, safety and a healthy future. Homeownership launches them forward. It is simply amazing what happens with these families."
To learn more about homeownership opportunities visit the South Puget Sound Habitat for Humanity website for a virtual walk through of homes or information on orientations and the application process. You can also call 360-956-3456 for more details.
Sponsored