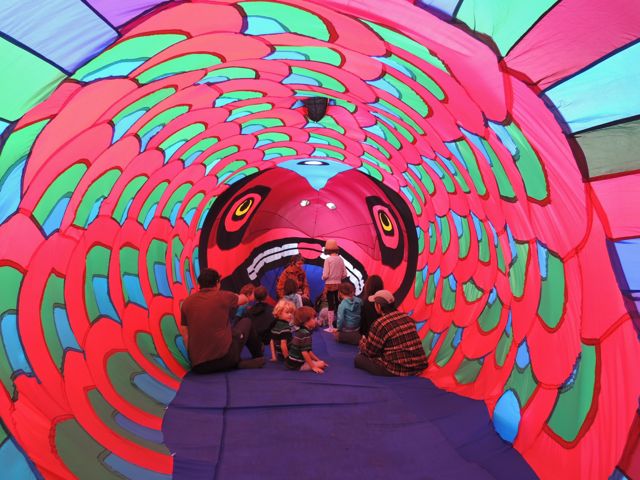 Submitted by the Nisqually Watershed Festival
For decades the Nisqually watershed community has served as a role model of cooperative conservation.  The Watershed Festival will be held on Saturday, September 24 from 10:00 a.m. until 4:00 p.m. This free, daylong event features art, discovery, music and family fun, while celebrating Nisqually's history and culture.
This year's festival will include favorites from years past as well as some new additions.
Enjoy the all new "Insect Extravaganza," where guests can view insects from around the world. There will be storytelling in the Red Salmon Tent, guided walking tours, and great coffee and food options, including the always-popular salmon barbecue.
Check out the amazing singing voices of the watershed in Nisqually Idol, a singing competition for people 18 years and younger. Want to compete? All contestants must pre-register. Details can be found on the festival's website.
Several non-profits and local agencies that work in the Nisqually Watershed will also be on hand to share educational activities, crafts, and information. Don't forget to bring a t-shirt or use paper to make your own Nisqually salmon print, learn about the salmon lifecycle by making a keychain, and get your face painted. Stop by the mainstage for a live raptor show, wildlife presentations, and more.
"Watershed communities have been working hard to protect and restore this unique place for years," Hall said. "The festival has served as a showcase for what makes the Nisqually special. It's where we all come together to celebrate what we have accomplished."
Visit the festival website for more information about the festival or to pre-register for Nisqually Idol.
Free parking and shuttle to the festival will be available at River Ridge High School, 350 River Ridge Drive, Lacey. Map: http://goo.gl/maps/Y2gND
Nisqually Watershed Festival
Location: Billy Franks Jr. Nisqually Wildlife Refuge
100 Brown Farm Rd. NE in Olympia
Saturday, September 24 – 10:00 a.m. – 4:00 p.m.