Few professions are as simultaneously misunderstood and appreciated as chiropractic. Supporters adamantly proclaim the benefits. The skeptics continue to doubt. Yet the fact remains that there has been steady growth of chiropractors in the United States as more people consult chiropractors as an alternative to surgery or medicine. The American Chiropractic Association estimates that chiropractic colleges are graduating about 3,000 new practioners each year to keep up with the demand of chiropractic services. Millions of Americans are successfully and effectively treated with chiropractic care each year. Locally, Adamson Chiropractic is a leading provider and one of the few in Thurston County offering Active Release Technique.
Dr. Nicole Adamson shares, "We hear all the time from our new patients that our chiropractic services are nothing like they have had ever before."
"Not only is chiropractic sometimes misunderstood in general but at Adamson Chiropractic we simply do it differently," she continues. "We are entirely focused on improving function and reducing pain so that patients do not continue with us long term or get placed on a treatment plan of extended care. We want our patients to get better and be able to maintain their improvement. We believe that the body will function and work correctly if properly treated and encouraged."
In simple terms, chiropractic is a health care profession that focuses on the relationship between the body's main structures including the skeleton, muscles and nerves and overall health. Dr. Adamson specializes in Active Release Technique (ART), a patented, state-of-the-art soft tissue technique used to treat muscles, tendons, ligaments, fascia, and nerves. Overused muscles resulting in headaches, back pain, tennis elbow and similar conditions are resolved quickly and permanently from ART. Dr. Adamon stresses that ART is not a generalized approach but instead is specifically tailored to each patients' needs.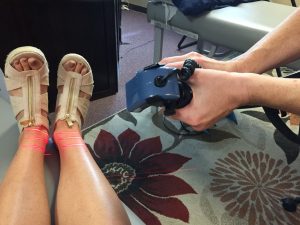 "Sometimes I explain to my patients that we are the mechanics of the body. They are coming to the body shop to get their parts and pieces restored, regain function and eliminate pain. We are hands on. We are a 'hurts so good' procedure to restore range of motion and reduce scar tissue. And your body sometimes needs to come in for tune-ups just like a car going in to the auto mechanic. If your car breaks down, where do you go? This is your body shop when you have a flat or your body is beginning to break down. We tune it up so that you can return to work, the gym or just daily activities. Most main stream medical services do not do the hands on work that we are experts in. They are very good at surgery and distributing medicine. But we are very good at hands on and are specialists in ART and treating soft tissue. This is our niche," explains Dr. Adamson.
Adamson Chiropractic has the expertise to treat any condition causing pain including on the job injuries, car accidents, post surgery issues, athletic injuries and aches and pains caused during pregnancy. Yet Dr. Adamson is quick to point out that people do not have to have an injury to be in pain. Often it is daily activities that are creating pain, such as simple tasks like tying a shoe, getting out of bed or picking up a child. She also encourages not waiting so long that the pain is unbearable and excruciating as often the treatment can be fairly quick and easy.
Dr. Adamson describes a recent patient experience. "I just worked with a body builder in his 60s. He had been weight lifting nearly all his life. He had multiple tears in his shoulder. He had not been able to do a dip in ten years and shoulder presses for even longer. He had simply resigned himself to limited lifting and lots of pain. He thought his only option was to have surgery in order to regain ability. He had chosen to avoid surgery but the pain was becoming intolerable. I treated him a half dozen times. It was definitely tough love and he sweated through it. But now he can do a dip and a lateral shoulder press. He is blown away by the progress and personal gain."
Adamson Chiropractic offers a multitude of practitioners to complement specific patient conditions. Adamson Chiropractic acupuncture specializes in treating pain, musculoskeletal conditions, women's health, post-traumatic stress syndrome and other chronic conditions. And massage therapists offer healing treatments for a variety of needs ranging from sports injuries and other traumas to relaxation.
Learn more about Adamson Chiropractic online or call 360-923-1717.
Sponsored