Ross Lunbeck has been making chili a long time.  His forays into the world of chili competition have inspired family and friends to new levels of fun and games. The contests have turned into an extended family affair with friends and relatives joining in the cooking by chopping ingredients, tweaking recipes, competing with and against each other, and eventually eating the profits. There's plenty of good-natured ribbing spiced with the desire to outwit, out-cook and out-compete dad.
More than three decades ago, Lacey residents Ross and Rhonda Lunbeck used to bowl together on Saturday nights. After they'd come home, Ross would prepare a chili in his big red pot to cook overnight. The next day the tasty dish would be ready for a football game. "It's easy," Lunbeck noted about preparing chili, and he got good results.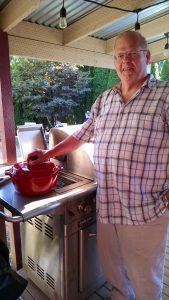 More recently, friends invited him to a competition. Lunbeck became acquainted with the Chili Appreciation Society International (CASI) and the International Chili Association (ICA). Chili competitions are often held in conjunction with other events such as fundraisers. The competitors may be fierce, but all chefs are participating to have a good time.
CASI chili is strictly meat and sauce. There can be a multitude of spices, but this recipe excludes all the extras like beans, peppers and other vegetables. The all-inclusive versions are called home-style chili. That's a separate competition. People may begin with their CASI chili as a base, and then add ingredients for their home-style creations. During a CASI competition, all the preparation is done on site.
Lunbeck's daughter Hillary Patton started helping at her father's side. "He supported all our endeavors," she said and is now returning to support his. During the week, Hillary is a dental assistant at Small to Tall Pediatric Dentistry, but on weekends you might find her competing against her dad. She is proud to state that her home-style chili with zucchini and quinoa once placed above her dad's submission. Patton has used her father's spice recipe but makes her own changes like adding beer or chocolate.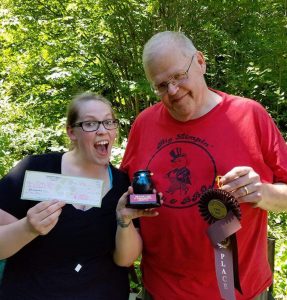 Lunbeck takes all the teasing in stride. After all, he has a table overflowing with trophies and ribbons. The Lunbeck's back yard has been transformed into a (self-described) chili shack. It's a covered area with a work space and huge grill. There are lawn chairs and picnic tables. The Lunbeck clan doesn't have to compete to get together for fun and fellowship – and a top-notch bowl of chili.
I wondered about judging chili competitions.  Aren't people's taste preferences different? And isn't there a certain level of subjectivity? Ross explained it this way, "I've never cooked a bad pot of chili, but I had a bad table of judges." He was smiling, and I knew what he meant.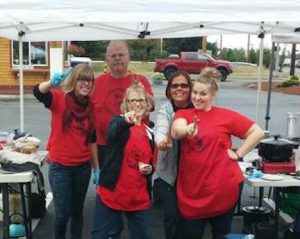 If you are not competing, the recipe for a pot of chili includes whatever you want it to include. Ross has generously shared two recipes that you can follow to the letter or use as jumping off points. School is in session, fall sports are in play, and evenings are getting cooler. A crockpot (or in Lunbeck's case – his big red pot) of simmering chili delights your nose as you get home at the end of your day. Then you'll get the pleasure of filling your bowl and eating your perfect combination. Serve with grated cheese, chopped onions, chips, and whatever gives you chili bliss.
Eat Well – Be Well
Ross' CASI (Chili Appreciation Society International) Recipe
2-3 lbs meat (cubed beef, chili grind or ground beef)
Spices (See Dumps)
2 Serrano chilies
1 can 15 oz chicken stock
1 can 15 oz beef stock
1 can 8 oz tomato sauce
1 can 6 oz tomato paste
1st Spice Dump:
¼ tsp cayenne pepper*
1 ½ tsp garlic granules*
1 Tbl Mild Bills Cowtown Light Chili Powder*
1 Tbl Mild Bills San Antonio Original Chili Powder*
1 Tbl Mild Bills Dixon Med Hot Chili Powder
2 tsp onion granules
2 tsp Wylers Beef Granules
2 tsp Wylers Chicken Granules
1/8 tsp kosher salt
1 tsp Mexican oregano
1 tsp cilantro flake
¼ tsp celery seed
2nd Spice Dump:
1/8 tsp cayenne pepper*
½ tsp garlic granules *
1 Tbl Mild Bills Cowtown Light Chili Powder*
1 Tbl Mild Bills San Antonio Original Chili Powder*
1 Tbl Mexene Chili Powder
1/8 tsp Gunpowder Foods Hot Stuff
1 Tbl cumin
1 Tbl dark brown sugar
1 Tbl smoked paprika
1 tsp black pepper
1 pack Sazon Goya
Final Dump to taste (not required)
Kosher Salt – Cumin – Dark Brown Sugar – Cayenne Pepper
*It's best to grind spice dumps.
Brown meat in small batches. Drain well and set aside. If home-style, sauté peppers and onions now.
Bring wet ingredients to a boil.
Add 1st dump and stir until blended smooth.
Add meat and Serrano Chiles.
Reduce heat to low. Cook 1 hour. Stir occasionally.
Remove Serrano Chiles. Squeeze all yummy goodness out of the peppers and discard.
Add second dump. If home-style add 2 cans drained beans now.
15 minutes before turn in or eating, taste for Final Dump needs.
Turn into home-style by adding onions, peppers, beans or whatever you want.
Ross' Home-style Chili Recipe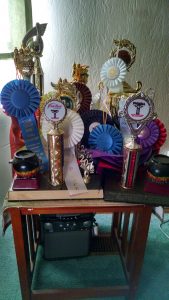 Ross' Spice pouch #1
Ross' Spice pouch #2
4 slices bacon chopped
1 lb ground pork
3 lbs chili grind (ground chuck or hamburger)
1 green pepper chopped
1 red pepper chopped
2 small onions chopped
2 Serrano chilies deseeded and chopped
2 jalapeños deseeded and chopped
2 cans 15 oz beef stock
1 can 8 oz tomato sauce
1 can 6 oz tomato paste
1 can diced tomatoes
1 can chili beans drained
1 can kidney beans drained
2 limes
cilantro chopped
Cook bacon till rendered add ground pork. Brown, drain and set aside.
Brown chili grind in small batches. Drain and set aside.
Sautee peppers, onions and chilies.
Add beef stock, tomato sauce and paste and diced tomatoes. Bring to a boil.
Add bag #1 of seasonings. Stir till blended then add all meats.
Reduce heat to a simmer. Cook about an hour stirring occasionally.
Add second bag of spices and drained beans.
Add salt if needed. If more heat is needed add cayenne (be careful). If it's too hot, man up and grow a pair or go knit with the ladies or you can add a bit of brown sugar or sour cream.
If adding beans, add 30 minutes before serving.
15 minute before serving squeeze the juice of the 2 limes and a couple of tablespoons of finely chopped cilantro.
Serve with cheese, onions, crackers, rice or whatever sounds delicious.
To order spice packets, e-mail lunbeck_ross@comcast.net.