LOL isn't just an abbreviation to use while texting your best friend. It also applies to the sixth annual Love Our Local Fest on Sunday, August 21 beginning at 1:00 p.m. A block party for all ages, Love Our Local Fest (or simply LOL Fest) is a guaranteed good time. Head over to the corner of Bethel and San Francisco streets right near Roosevelt Elementary in East Olympia. "It's everyone coming together to share their gifts and create possibilities and create connections," event organizer Gail O'Sullivan tells me.

Gail, along with Ashley McBee and two other organizers, have been planning LOL since January. "Organizing LOL is just as much a community building activity as the actual block party," says Ashley. With more than 70 booths reserved, many with hands-on activities, 2016 is set to be the biggest year yet. There is bound to be something for every person in the family to enjoy.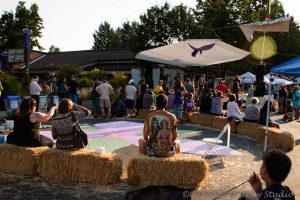 "LOL is a chance to come together to play, dance, and just have fun! And this all blossoms on the foundation of supporting our local economy, connecting citizens to local social and environmental justice movements, and facilitating connections that foster collective positive impact in our community," Ashley explains.
Gail says it's the local focus that makes all the difference. "It's not people who drag their show around to city after city and do the same thing everywhere. This is people who live here and only do this at Love Our Local Fest," she adds. The yearly neighborhood event brings together artisans, food vendors, and non-profit organizations, but will also have a children's play area, a space to just relax, and music playing throughout the day. "It's a real taste of Olympia. It's a real wide cross-section of the people that make and build stuff."
For the third consecutive year, Rawk Star Creations, an organic, raw, gluten-free and vegan-friendly food company, will be a vendor at Love Our Local Fest. The Tumwater-based business is owned by Leland and Syndey Harmell. Employee Lucas Nipper tells me the Harmells are very passionate people, always looking for new opportunities to connect with the community. "That's why LOL is the perfect event for us to be involved with. It's everything we stand for as a company – bringing the community together and supporting our local businesses," notes Lucas.
Lucas says Rawk Star Creations works hard to maintain strong relationships with other local companies. Rawk Star Creations either grows their own products or uses ingredients from nearby organic farms, sourcing as local as possible. "We want people to be conscious of the fact that all the vendors and musicians at the event are out there because they're passionate about their product (whether that's music, art or food) and they want to share it with you," adds Lucas.
This year Rawk Star Creations will offer even more on-the-go vegan and raw meals at the festival, educating people on why it's important to know where your food comes from. Lucas says the company believes events like Love Our Local Fest define a community and make it stronger overall. "I personally hope the community just gets a feeling of togetherness when they go to LOL. I hope lasting memories and relationships are formed."
Whether you're looking to sample some great food, hear a local band, or just see what people are creating in Olympia, Love Our Local Fest is the place to be on Sunday.
Ashley adds that experiencing Love Our Local Fest is a great reminder of all the good things happening in this community. "I intrinsically really need these reminders that our community can thrive, connect, support and work together to create a positive collective impact," she says.
To plan your visit to Love Our Local Fest on Sunday, visit their website or Facebook page.