I'm bored! It's too hot! It's raining! There's nothing to do!
No matter the day, weather, season, or age of our kids, we all have those days. When nothing's quite right, patience runs low, and you're out of ideas, pile everyone into the car for a trip to Olympia's newest all-ages extravaganza: BoomShaka Extreme Air Sports.
With more than 35,000 feet of bouncy, high flying, indoor fun, BoomShaka opened this summer to rave reviews. General Manager Kirk Jarman stresses that it's so much more than just a trampoline experience. "We've got spaces for open jumping, dodgeball, basketball, foam pits, trapeze, and swings," he explains, all with springy floors to keep visitors on their toes (or at least harmlessly bouncing).
Open Monday through Saturday, BoomShaka visitors sign up for flights in one-hour increments. From 9:00 to 10:00 a.m. each day, KidJump flights are for ages 6 and under only, with a parent entry included for free. After that, it's all ages from 10:00 a.m. until 9:00 p.m. From 9:00 p.m. until midnight ClubBOOM takes over for ages 15+ on Friday and Saturday. ClubBOOM features a DJ, black lights, and a laser show. Kids can burn off their endless energy while parents relax knowing they're safe and—shhh!— happily exercising.
Flights are typically $13 for the first hour or $20 for two hours. But social media junkies can often score discounts, specials, or freebies through Facebook, Instagram, and Twitter. Recent promos included free cheesecake-on-a-stick for July 30's National Cheesecake Day or reduced admission if you caught a Pokemon on-site.
Mondays are family night, where the entire immediate family jumps for $35, Tuesday is student night, Wednesday night jumpers have a jump-rope donated to underprivileged kids for each paid admission, and Thursdays feature a rotating theme. Find specifics online or by calling for details before your trip.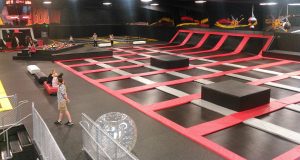 Fitness buffs can use their American Ninja course or put together a pick-up basketball or dodgeball game. Daredevils can climb inside a Zorb Ball and experience life as a human-sized runaway hamster.
To avoid mid-air collisions, capacity is set at 200, but staff has "never turned anyone away, though sometimes people have a few minutes' wait." If you purchase tickets online, flights take place in set increments keeping transitions smooth. Jarman encourages guests to fill out the liability waiver online as their systems will keep it for one year, but ticketing and paperwork can easily be done in-house as well.
Jarman hopes BoomShaka will fill a need in our area for those "adrenaline, thrill-seeking 18-25 year olds" as well as become the go-to spot for family fun, birthday and corporate celebrations, and even overnight slumber parties.
Yes, you read that right: you and your friends, family, co-workers, or club can get locked in for an all-night jump-stravaganza. Not a night owl? Parties run all day and include one hour of flight time, 45 minutes in a private room, cups, plates, napkins, tablecloths, utensils, and your own personal attendant to arrange pre- and post-fun clean up. For details and pricing, email events@boomshaka.us.
In the few weeks they've been open, 5-star reviews are pouring in. Said one happy customer, "What an awesome place; went there last night for the first time, received great service by the employees, and just an all-around good atmosphere. There isn't much to do in the Oly/Lacey/Tumwater area if you're 18-20, it's nice to have something new…let me tell you I'm 19 and I was worn out in 30 minutes; definitely will be coming back!"
Another—who had her hands full—praised "I visited yesterday with 23 (yes, 23!) kiddos. This place rocked! The staff was efficient and helpful checking us in, and staff manning the jump areas were alert and helpful. The variety of activities was perfect; everyone had a fun, sweaty, active blast. It was clean, smelled nice, well maintained, and totally worth the drive from Tacoma!"
Located at 7960 Center St SW, BoomShaka is an easy drive from the Tumwater Boulevard exit off I-5 or Capital Boulevard near the Olympia Airport. Whet your imagination with their online photo and video gallery before you go. Check out safety guidelines too, just in case.
Almost 150 years ago, Ezra Cornell said "Idleness is to the human mind like rust to iron." One of the best ways to not rust, especially in the soggy Pacific Northwest, is to stay active and moving all year long. BoomShaka makes that endlessly easy and fun.