Where can you enjoy a fine French meal, take a cooking class, learn to distill moonshine, sample local whiskey, enjoy creamy gelato, belly up at a local oyster or bone broth bar and pick up a lovely bouquet along with locally-sourced groceries? Soon it will all be at the 222 Market, where Chelsea Farms Oyster Bar, Blind Pig Spirits, The Bread Peddler, Broth Bar, Sofie's Scoops, Fleurae, and Pantry Artisan Grocery will all be under one roof in downtown Olympia.

"This will really be a gathering place," says co-owner Gray Graham. "This will be a place where people will come, on the weekends, in the evenings, and just hang out, you could have a gelato, you could go taste a little whiskey at the Blind Pig, you can get a crepe, you can have a few oyster shooters, pick up a few things for dinner. You can mix and match your things. You can get it all here, there's something for everyone," he explains.
Gray and his wife, Joy Graham, along with their business partner Lela Cross are behind the market, which is slated to be fully open in September.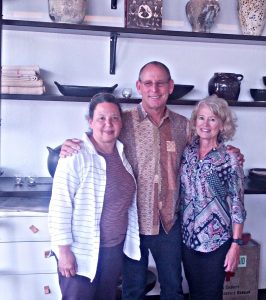 Gray and Joy, longtime Olympia residents, have been in the natural health business for 25 years as the owners of Biotics Research NW and founders of the Nutritional Therapy Association.
Lela, who has been in Olympia for over 20 years, is a longtime downtown business owner and restaurateur. "It was an opportunity to give back to the community," says Lela of 222 Market. "I love downtown. I'm a big supporter of downtown. I'm also, at this point in my life, a big supporter of people who want to start and own their own businesses."
The Grahams, who have owned the building at 222 Capitol Way for 12 years, were renting the majority of the building as office space, and when the tenants left they decided to do something new with the property creating an artisan style food market, which they describe as "European Market meets Hip Olympia Funk."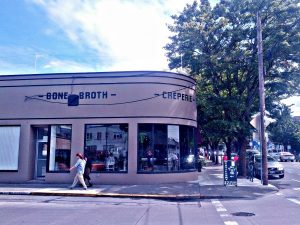 "We needed to repurpose the building, and it was just kind of a natural step for us to ask what would serve our beliefs, what would serve the community, in terms of good food, what would serve downtown, in terms of an artisan food gathering place, and with the momentum that Andre already had with his two restaurants (the Bread Peddler and Peddler Bistro), it just seemed natural to go for a European-style food court," explains Gray.
Gray says that the project got off to a slow start until they partnered with Lela. "To toot Lela's horn a little bit, she's very connected to the food community, and she's involved with restaurants and chefs. We're involved with the natural practitioners, so it's a natural alliance," Gray shares.
"We couldn't have done it by ourselves and Lela couldn't have done it by herself. It was the perfect marriage really," adds Joy. "We really feel, all of us, that we're giving back and creating a gathering space that is going to be so good for Olympia."
Gray explains that he and his partners are purpose driven, with a strong desire to bring healthful eating options to the community and to contribute to downtown Olympia. "We want people to have healthy eating options. It will add a great benefit for people who want to live downtown," he says.
The market will include some Olympia favorites, like the Bread Peddler and Blind Pig Distilling, along with several new businesses, including an artisan grocery store, The Pantry, featuring local, seasonal products along with local meat, beer, wine and cider, and an in-house cooking school.
The 222 Market will have an open interior with shared seating inside and outside, with patrons free to enjoy products from all of the stores in one location. Repurposed old fir from building demolition will be used in the common area and for the counter tops. Artisans Group, a local architecture and design firm, is behind the design. Joy explains they have been instrumental in launching the market, and have worked hard on the project with the shared goal of giving back to the community.
Gray explains that another goal of 222 Market is to help small business owners. "One thing I'm really proud of is that this is giving an opportunity for young entrepreneurial people to really have an opportunity to do something on their own. We're able to provide the logistical and financial support," he explains. Gray, Joy, and Lela have helped the business owners who are a part of 222 Market, from financing, to business plans, to permitting.
"Lela's taken each one of those people through all their permitting, and working with the health department. It's a huge amount of work," says Joy. "We believe in them and we know that they are going to be successful. They're all wonderful people," she says of the entrepreneurs who will be housed at 222 Market.
"I'm so happy to see how happy the community is going to be, because I think people are really going to be beside themselves," says Joy in anticipation of opening in the fall.
"As Olympians, we really want people to be proud of it. We want the town to be excited, and to support it," says Lela. "We're pretty excited."
To keep track of opening news, visit www.222market.com.