Submitted by The City of Olympia
Do you have a lawn, yard or garden? Interested in learning how to save money and make it look like paradise? Do you like to win free stuff? Are food trucks your favorite weekend lunch?  If you answered yes to any of these, join us for the Great Yards Get Together! This is a free family friendly, event on Saturday September 10 from 10:00 a.m. to 2:00 p.m. at Heritage Park.
This community event will feature "how to" demonstrations and provide resources to help residents create beautiful and healthy lawns, yards and gardens. Learn from local experts how to save time and money using practices that are safe for people, pets and water.
Even if you don't have a lawn or garden, we will share information about our collective backyard, Puget Sound, and the local natural resources we all share. The Great Yards Get-Together has something for everyone!
This event emphasizes individual actions that protect the health of our families, homes, local ecosystems and neighborhoods. Those actions include: practicing natural lawn care, growing organic food, composting, aerating soil, keeping bees, removing invasive weeds, supporting native wildlife, conserving water, installing a rain garden and more.
Stop by our welcome booth to pick up your event passport to win prizes and sign up for the croquet tournament. Prizes include:
Native plants for the first 50 people to arrive
Starter drip irrigation kit
Free soil tests
Long-handled weeding tool
Residential landscape habitat consultation
Slow release fertilizer & lime
Many more giveaways
Booth Spotlight: OlyWild
Have you heard of the City of Olympia's new habitat restoration program, OlyWild? It's about helping city residents take action to increase habitat stewardship in their own backyards.  Across our urban landscape, wildlife habitat has been fragmented and converted to other uses. This has reduced habitat and created islands of disconnected habitats across the city. Much of Olympia's remaining habitat areas are associated with streams, wetlands, or other aquatic resources.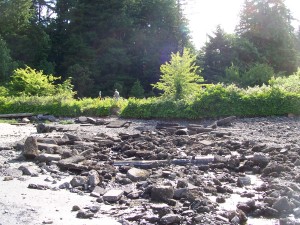 OlyWild focuses on these aquatic habitats. Currently the program is in its pilot phase, and is mainly working with neighbors in the Mission Creek watershed.  In the future, the program is likely to expand to other Olympia neighborhoods with critical aquatic and riparian habitat.
At the Great Yards Get-Together, Kate Hartman will share her expertise at the OlyWild booth. Stop by to see demonstrations on tree planting and root washing. Root washing helps identify the primary plant roots, so you can determine the proper depth to dig your hole and prune any crooked roots.
In addition to tree planting and root-washing demonstrations, come learn about the many ways (such as adding native pollinators) to improve habitat and benefit wildlife in your yard!
Don't miss out-you will be one step closer to filling out the Great Yards Get-Together passport, which is an entry to win great raffle prizes!
To learn more about the OlyWild Program, contact Michelle Stevie at: mstevie@ci.olympia.wa.us
Capitol Campus Sustainability Landscape Tour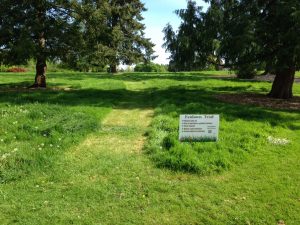 As part of the Great Yards Get-Together, horticulturist for the Capitol Campus, Brent Chapman, will offer two tours of the Capitol Campus Grounds. Tours at 11:00 a.m. and 1:00 p.m. will showcase the Campus' sustainable landscape management practices.  Projects of interest include bioswales for stormwater runoff treatment, an ecolawn trial, use of cardboard and arborists' chips for organic weed control, and the conversion of seasonal flower beds to perennials and honeybee hives at the Governor's Mansion.  These practices can be recreated on any scale, from a large public park to a small townhouse garden. Bring your questions and walking shoes.
You can pre-register for the tours on the Stream Team website or call Brent Chapman at 360-725-0018 for questions.
For more information about the Great Yards Get-Together, contact Susan McCleary at smccleary@ci.olympia.wa.us