Over the years , Louise Mihay has heard that annoying inner voice everyone eventually hears that protests "you can't do that anymore."
But Mihay's response is simply not to sit and refocus her state of mind.
"I might look old," said Mihay, who recently turned 75. "But I don't feel old."

As a way of quieting that inner voice that says she's too old, Mihay began running when she was approaching 50. That led to her involvement in the Washington State Senior Games, a nationwide organization with the goal of keeping the country's grey-hair crowd active and off the couch.
"I love it," Mihay said about the Senior Games. "It's so much fun."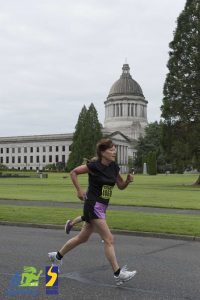 The Washington State Senior Games will be held this month, hosted in towns across Thurston County. Nearly 2,000 people will compete in 24 different events, including track, basketball, softball, swimming, badminton, and volleyball.
At each event, whether it's someone rolling a bowling ball, throwing a shot put, or scooping up a grounder at third base, there's a 90-something having fun. George Rowswell, who is 99, is again going to be competing in the shot put, throwing from his wheelchair. There will be people in their 70s and 80s running around the track. At each event, "I can" wins out, beating the "I'm too old" voice.
Mihay, who graduated from high school in 1959, entered her first race – a 5K – just one month after she started running with some friends at work. Initially, she had the desire to run, but not the speed.
"I was doing 14-minute miles, really slow," Mihay said. "But I thought when I turned 50 I'm going to move into an age range that I might stand a chance at winning something."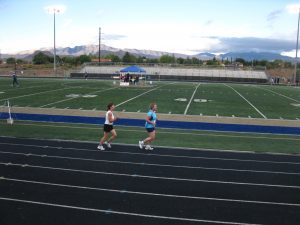 As her training miles began to pile up, her race times began to drop. And eventually, Mihay began winning races. She's qualified for the Senior Games national meets four times, placing second in the 800 meters with a time of 3:32 in 2009. She's also placed third in the 1,500 with a time of 7:17.
For Mihay, running isn't only a way to stay fit. It's also been a way to meet and make new friends. "What I like about running is I have met some of my best friends," she said. "One of them was Diane Johnson."
The goal of the Washington State Senior Games, which is now in its 20th year, is to keep seniors active.

"We want to encourage seniors to get off the couch," said Jack Kiley, the Washington State Senior Games president for the past 12 years. "Get involved in nutrition and exercise."
And hopefully they'll find a sport that there were involved in in high school or college. "Just having fun at some point and getting back into that sport," Kiley said.
There is also a social element to the games, too. It's a way of meeting people, too.
"Camaraderie and companionship is a big element," Kiley said. "The over 50 active senior competitors don't have a lot of options."
Kiley encourages the borderliner, the person wanting to participate but not sure they can, to come out and watch a Senior Games event.
"You suddenly realize I'm as good as they are, or you think you are," Kiley said. "So you go from being a spectator to getting involved and being part of the games."
Unfortunately for Mihay, she's been reduced to a spectator this year. Last week while hiking in the Olympics, she fell, breaking her leg after summiting a peak in the Olympics on a 14-mile hike. Even her positive, can-do attitude can't get her up and going.
"I've got to stay on the couch for now," she said.
While Kiley, who is 77, doesn't compete in any of events, they don't happen without his leadership and efforts. So, his drive involves organizing and planning, not jogging. Everyone who works at the event would agree that Kiley's involvement is amazing. When asked if he was still president, Kiley said with a chuckle, "Not by my own choice. Nobody else will raise their hand."
But year after year, Kiley keeps raising his hand, volunteering to help others stay active and fit. "We have to make sure that we provide the most professional experience possible," Kiley said.
There's an event for everybody -archery, basketball, badminton, bowling, cowboy action shooting, cycling, dance, golf, pickleball, power walking, race walking, racquetball, 5 and 10K runs, rock climbing, shuffleboard, soccer, softball, swimming, table tennis, tennis, track, trap shooting, triathlon and volleyball.
Some of the events like the 5K and 10K runs are day-of-event registration. But most of the events have early registration. To see a list of events and to register go to washingtonstateseniorgames.com.