Gathering your own dinner, on the shores of Hood Canal, can be both fun and rewarding.  Shellfish are plentiful and fairly easy to harvest on Hood Canal.  Grab a shovel, print a license (free for kids under 15) and head out for a bucket of steamer clams.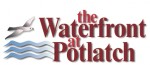 The Washington State Department of Fish and Wildlife limits each person to 40 clams and 18 oysters per day. Armed with rakes, buckets, and size gauges for shellfish a family can gather enough seafood for several dinners in less than one hour. And after fishing it is great to enjoy the beach, Puget Sound, and other activities nearby.
For other rules and information about shellfishing check the Washington Fish and Wildife Department website.  Here's a list of great places to shellfish.
Potlach State Park is the southernmost beach on this list. It is just over 30 miles from Olympia off of US 101, a convenient location for Thurston County residents. The beach is only a few hundred feet from the parking area and there is a large population of butter and manila clams.
The beach is also enhanced with oysters by the wildlife department. Enhancement is done by the Washington Department of Fish and Wildlife by adding young oysters to beaches to keep their population high.
The park itself has restrooms, showers, and picnic areas. It is a great place to hang out and enjoy the Puget Sound even if you are not clamming.
A Discover Pass is required to enter the park. They can be purchased at most places fishing licenses are sold and at many state parks.
Only eight miles farther up the road is Lilliwaup State Park. Clam and oyster harvesting are open year round here. This beach is very popular for oysters but it is a bit rockier and can be hard to dig for clams.
There are no bathrooms on site, but the Lilliwaup Store and a grocery store in Hoodsport are close by.
Dosewallips State Park is about 30 minutes from Lilliwaup and one of the most popular beaches on the canal. It is open year round to clam and oyster harvesting, and when tides are low enough, geoduck harvesting.
There are restrooms and picnic tables in the parking area, and it is a short walk to the beach. The beach itself is over five miles of shoreline and will get crowded on a nice day.
The state park has a campground, play area, and many hikes to do as well.
A Discover Pass is necessary to park or camp here. The area is patrolled heavily by the fish and wildlife department, so make sure to have all of your paperwork and abide by the rules.
Eagle Creek is a very popular beach for oysters. The beach is just off the highway and across the road for the Eagle Creek Saloon.
Eagle Creek is open all year to oyster harvesting and open June through July for clamming. There aren't bathrooms on site, but the Eagle Creek Saloon is a great bar and restaurant for adults to relax while they aren't on the beach.
Point Whitney Tidelands and Lagoon
Point Whitney is a popular area for all fishermen. There is a large beach and a boat launch for fishing, crabbing, and shrimping.
The tidelands and lagoon alternate harvesting seasons and are both enhanced with clams. They are both popular for oysters and mussels as well.
There are restrooms, picnic tables, and fire pits all on site. A Discover Pass is needed to park and use the boat launch.
Quilcene Bay is the northernmost beach on this list, but worth the drive for its huge population of manila and butter clams. The beach is also enhanced with oysters.
The beach is a short walk from the southern parking area and there is a vault toilet at the northern parking lot.
Duckabush Public Tidelands is just 2.4 miles south of Dosewallips State Park. It's in a great spot if Dosewallips State Park is too crowded for the day.
The beach is right off the highway and great for manila clams, butter clams, and oysters. There are no bathrooms on site but there are at Dosewallips State Park nearby.