Andrew Barkis has had his eye on Yelm for a long time. In fact, his Hometown Property Management business has had clients in the surrounding area for the past ten years. Although they were able to provide service through their main office, his team started exploring the possibility of opening a Yelm office in 2008.
Then – you guessed it – the economy tanked. "We looked at everything and decided to hold on," says Barkis.
After biding their time for several years, on April 1, 2016 Barkis held a soft opening for a new office centrally located in downtown Yelm. The move is the result of multiple factors coming together and the sound of opportunity knocking.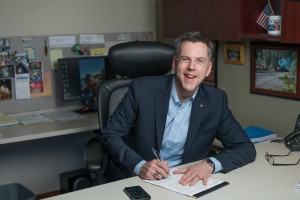 "In the last year, several things happened," says Barkis. "A company in the area decided to make a change and the owner approached us about purchasing her portfolio of homes. Once we did, we were at a number of homes (between 140 – 160) that a physical office would support."
Another factor was the emerging market and the amount of growth happening in the greater Yelm area, spanning to Rainier, Tenino, Roy, Mckenna, and Eatonville. "There's so much growth happening, and the whole property management world is busy right now," he says. "It was a good move for us."
Thurston County is often referred to as the fastest growing county in Washington State, with a faster growth rate at 5.4% than the state average of 5%. Yelm is acknowledged as the fastest growing city within the county for the past twenty years, with a 108% growth rate between 2000 and 2010.
Despite such growth, the Hometown Property team was able to find an ideal spot for their new office. In November they discovered a building for sale right next to Yelm Prairie Lanes bowling alley, close to the center of town. "We were really fortunate," says Barkis. "It's the perfect location for us." The office is staffed by Senior Property Manager Lori Delong and Assistant Property Manager Rhianna Anderson.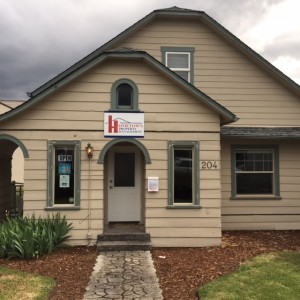 They've been welcomed by the community, Barkis says. "We've been very well-received. People are extremely happy to have another choice. Our tenants like having a closer place to come to deal maintenance issues and other aspects of home rentals, and for us it solidifies an existing relationship that we've had with the Yelm community."
Part of that relationship involves participating in community events like Southeast Thurston Relay for Life. "We've re-fired our relationship with them, and we're very involved with Rotary Club, the Lions Club and all of the activities that the different chambers of commerce put on," says Barkis. "We're sponsors of the upcoming South Sound BBQ Festival and we'll be out at Yelm Prairie Days."
Growing up in Chehalis, Barkis learned the importance of community. "I'm all about that," he says. He originally began managing properties as a student at Seattle University. "I had an opportunity to manage a small apartment building with the payment of free rent," he explains. "There's nothing better than free rent for college students."
He took the opportunity and was headed for a military career when he was sidelined by a knee injury. When the apartment building's owner offered him a chance for an entry level job with his property management company, he took it.
"They call it 'managing apartment buildings' but it was more like cleaning, painting, plunging toilets. I started at the bottom," he says. Later he moved to Spokane and managed multi-family and commercial buildings before returning to the South Sound twenty years ago. He's co-owned Hometown Property Management since 2005 and is currently a state representative for the 2nd legislative district.
His business began with a portfolio of approximately 40 properties. Now, they manage 1,200. "One of our keys to success is that we are integrated into the community and very active through service and giving back," he says. "We also offer fantastic services to our clients and tenants."
Now that they've opened in Yelm, the Hometown Property team is looking forward to getting to know the community better and sharing their services with people who need them. "The rental market is exploding," he says. "There is a very high demand for rental homes. It's a great opportunity for people who are considering an investment property or wanting to move into a bigger home."
"We're getting more tuned into the Yelm area and the outlying communities," he continues. "It's important to let people know about our systems and services.
To find out more about the services Hometown offers call 360-456-7368 or visit their website.
Sponsored