When the nights are warmer, the days longer, and the camping gear begins to beckon, start to plan your first summer getaway. Car camping is great fun, but perhaps you are ready to try something new, to venture farther from the car and to see more of the gorgeous scenery the area has to offer. Maybe you've curiously observed the smelly, smiling backpackers at the trailhead and would like to try backpacking. If you've been considering backpacking but aren't sure where to start, here are some of the lessons that I've learned the hard way, so that you don't have to.
Pick the right hike and do your homework.
Pick an easy trail for your first couple of trips. By far my favorite resource for picking a hike is the Washington Trails Association (WTA) Hiking Guide. You can use a map interface to find a hike, search by season to select an appropriate seasonal hike, or search by region, elevation gain, distance, dog-friendliness and more. There are a ton of great guide books for Western Washington as well, and many are available through the Timberland Regional Library catalog.
Select a trail that allows camping, is realistic for your abilities, is appropriate for the season, and check to see which recreation pass, if any, is required. WTA also has excellent, hiker-sourced trip reports with up to date information on most trail conditions. Know before you go.
Pack light, but not too light.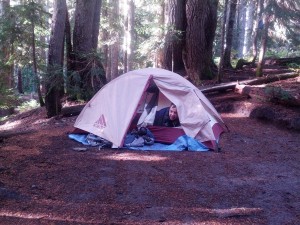 I've been on both ends of this one. In the early days of my backpacking career, I was that person with an oversized sleeping bag strapped to a too-full pack, maybe even with a jug of water or a lantern hanging off the back. I've also been that person who didn't pack any shelter on an August overnight trip, and in the middle of the night, six miles from the car, it began to rain, and then pour, and then storm. With soggy sleeping bags and dampened spirits my hiking companions and I hiked out at the first sign of dawn, without having slept a wink. Pack, at the very least, the ten essentials.
To avoid over-packing, pack for the situations you are likely to encounter, not the worst case scenario (you probably don't need two water filters or three headlamps, or a five pound sleeping bag on a low elevation summer hike). Avoid wearing cotton and opt instead for wool and synthetic materials. These will dry much faster, and will help regulate moisture and body temperature. This backpacking checklist will get you started.
Plan a menu.
Again, I have suffered through many mistakes and both extremes to bring you this important lesson. You're welcome. On one family trip in the woods of Idaho, we grossly overestimated how much the teenage boys would eat (yes, that's possible) and could barely hang the food bag each night it was so heavy, and we ended up carrying tons of food out. On another extended trip, I decided, at the trailhead, that we had packed way too much food, and decided to leave a full quarter of our food in the car. About four days later our few remaining snacks were being tightly rationed and we spent the last night of our hike going to bed without dinner.
There is a sweet spot when it comes to packing food, and the best way is to plan a menu. Your goal should be to have some extra food, at least a few extra snacks in case of emergency, but you don't want to carry half of your food back to the car. Write down what you will have for each meal, for example: oatmeal for breakfast, salami and cheese for lunch, dehydrated food for dinner, plan snacks, and then add a little extra emergency food. I strongly recommend against "winging-it" on food.
You don't need to break the bank.
Sure, the newest, fanciest gadgets are shiny, fun, and enticing, but you likely don't need them. You can pack your backpack without emptying your wallet, and it makes sense to try backpacking and make sure it's right for you before spending a lot.
There are ways to acquire suitable, quality gear for less. One great way to upgrade your old, dusty gear is to take it to the Olympia Gear Exchange. They'll consign your used gear and you can earn cash or a higher rate of store credit and use that to buy backpacks, sleeping bags, and everything else you need to get started. The legendary REI Garage Sale is also a great resource for scoring gear on the cheap. A few times a year lightly used goods that have been returned are sold to REI members for a fraction of retail price. Dates for the semi-annual vary, so call REI for more information.
Know when to fold 'em.
Always choose safety. As a beginning backpacker I took chances I would never take as an experienced hiker, usually because I didn't know better. Make sure you have plenty of time to reach your destination. Know your hiking speed (likely 2-3 mph) and account for elevation (add up to an hour for every 1,000 foot elevation gain). Know when the sun sets and leave yourself some wiggle room. Nothing will ensure that your friends/spouse/children never join you backpacking again like a stressful hike in the dark trying to find a flat spot to lay your head. Trust me, I've been there too.
There are more hiking options in Washington than there are days in the year, so here are just a few trips to get you started.
Lower Lena Lake: This popular 7.2 mile round-trip hike to a lovely lake on the Olympia Peninsula is a great length for beginning backpackers. It does get quite crowded, so plan ahead and leave early to secure a spot. There are several established campsites and a pit toilet.
Ozette Triangle: This coastal gem is an ideal trip for beginning backpackers and families with small children. The 9.4 mile loop has very little elevation gain, two semi-developed camping areas to choose from and shorter out and back options are available. Just be sure to secure a permit before starting this hike.
Grey Wolf River: This hike to Slab Camp and Camp Tony offers excellent riverside campsites and the potential for great solitude. And the trip to the campsites is downhill, which means after eating your food and drinking your beer, your pack will be lighter the next day for the back-to-the car climb.
Want to learn more? The Olympia REI offers many free backpacking courses and the Olympia Mountaineers offer more extensive wilderness skills courses. Ranger Stations are also a great resource to check permit requirements and trail and road conditions. Please ensure that our public lands offer great recreation opportunities for future generations by observing Leave No Trace principles.