How do you help someone to heal a foot injury if they won't stop moving? Even more challenging, what if they're attempting to get better while simultaneously training for a marathon?
That's just one of the issues Dr. Terrence Hess faces on a regular basis as a podiatrist at Foot & Ankle Surgical Associates. "Marathon people are fun," he says. "They're often overachievers who can't sit still. They have to maintain aerobic activity while we're making them better and it presents a whole new challenge."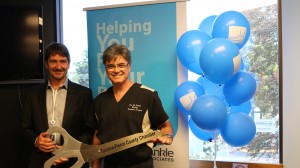 Hess oversees a growing number of offices, now up to four based in Centralia, Tacoma, Tumwater, and Yelm, with a goal of adding more in the next several years. The practices offer a wide range of patient services, including surgery, diagnostics, physical therapy, orthotics, MLS laser therapy, and fungal laser.
The Tacoma office is the latest addition, but Hess has ambitious goals for adding more in the next several years. "Our mission now is to grow other practices and get the enthusiasm back into this specialty," he says. The process of adopting a business is a team effort; Hess and his staff work diligently to ensure administrative and compliance tasks of running a business are maintained, allowing a doctor to be a doctor. "We're evolving our training so that it is constantly better," says Hess.
One challenge is trying to keep up to date with ever-evolving technology, he says. "It's exciting and fun, and it's always moving." The team creates video trainings for the staff at new locations to help them stay current and establish consistency. The training focuses on creating efficient systems in keeping with cutting edge practices.
After initially choosing a career as a pharmacist, Dr. Hess switched to podiatry after interviewing "every doctor under the sun" to discover the best way to help people. "Everyone can have foot and ankle problems," he says. "The remedies can be instantaneous. We can get people back quickly to walking and active lifestyles. Podiatrists have by far the best jobs in the medical profession."
While speedy recovery is ideal, sometimes it's not possible. "Our whole goal is to get people back to what they want to be doing," says Hess, "but some things take one day and some things take six months." In the South Sound, some of the most severe cases he treats tend to be people with diabetic infections who've been told their leg will need to be amputated. His team works with patients to prevent the necessity of such a drastic solution.
"The odds of survival after losing a leg can be worse than the chances of surviving cancer," he says. "It's important to befriend the patient because those kinds of conditions do take longer to heal. The hard part is inspiring them to take care of themselves. We need to get in their heads and make them part of the team. Otherwise, they're an opponent to the healing process."
Working with patients to make them an educated partner in the healing process is important, regardless of whether they're coping with diabetic infections or more common complaints like foot pain, ingrown toenails, heel pain, or deformities.
In addition to his regular practice, Dr. Hess has conducted mission trips to Central America, where he often finds an entirely different set of challenges. "We'll see conditions that should have been treated years earlier, if not at birth," he says. "Things have usually gotten far worse than they should have been through neglect. We have the opportunity to completely change them."
The journeys south have given him perspective. "I kind of stumbled into doing mission trips through my colleague, Dr. Hull," he says. "Initially I thought I was doing it for him but I realized I'm doing it for the people we're able to treat and for myself."
That emphasis on connecting with patients and colleagues is evident in all of his practices. "The thing I found out early on is it's not about me – it's about us, the staff and the patients. Our team approach has evolved a lot," he says. "Our office is a pretty cool place that feels like family."
Within the next several years, Dr. Hess hopes to bring in many new practices. "The sky is the limit," he says. "We've enlisted the help of a consultant to establish a better quality of care. We'll share what we're doing and learn from what they're doing and we'll keep making it better."
To learn more about Foot & Ankle Surgical Associates visit www.anklefoot.net or call 360-754-3338.
Sponsored