Submitted by Harlequin Productions 
On May 5, Harlequin Productions premiers The Language Archive, a romantic comedy by Julia Cho running until May 28. I sat down with the show's director, and Harlequin's Managing Artistic Director, Scot Whitney, to discuss his latest project.
What made you select this show as your next directing project?
I started a theater company because I want to tell great stories. Now we're committed to finding seven per year. I'm constantly searching for compelling stories that need to be told. In this case, I read a description of the play and it sounded intriguing, so I ordered a copy, hoping that it might grab me. I do that often, and most of the time they don't, but this one did.
From beginning to end, it swept me up in its delightful elegance and whimsicality. It is a beautiful, somehow magical, modern romance that shatters all expectations of what that seems like it ought to mean. It's funny, poignant, heartbreaking and inspiring. Ultimately, it's impossible to describe, because there is nothing quite like it. Words don't do it justice. Which is, coincidentally, exactly what the play is about.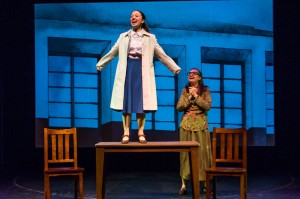 What is the cast bringing to the show so far in the rehearsal process?
The cast is bringing what I always hope a cast will bring: their time, talent, intelligence, experience, perspective, honesty, wit, passion, patience and commitment. They're actors! That's what they do! I love actors! They do the heavy lifting and allow me to pretend that I'm actually good at what I do.
On the comedy-drama spectrum, it seems this show lands somewhere in between. Should audiences be expecting to laugh, cry, think…or all three?
In my humble opinion, audiences should expect all three from every play they see. That's what they're for. This is a rich, gorgeous story about the power love has on our lives, and our inability to express that love through words. Is there anyone in the world who can't relate to that? Is there anyone who hasn't laughed, cried and thought hard about that particular subject? I don't think I've met any. I'm not sure I want to.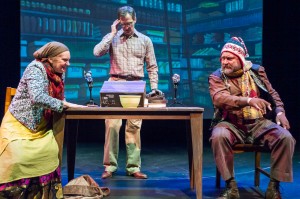 What are you hoping to give audiences members with this play? What is the effect you intend it to have?
Theater is a lot like travel. 200 people get on a plane and they fly to Paris for a week. They are all affected differently by the experience, but their perspective has been expanded and their lives are made richer. Of course, there are those who spend their whole time grumbling because the Big Macs don't taste the way they're supposed to, but I'm not sure why they went to Paris in the first place.
What would you say to someone who says they're on the fence about seeing the show?
The seats in our theater are much more comfortable than a fence. And the view is probably more interesting.
The Language Archive runs May 5-28, 2016 at Harlequin Productions.
Tickets and more info available at 360-786-0151 or at harlequinproductions.org.