It was the inevitable moment of truth, the moment that separates the doers from the dreaders.
Three years ago, Anna Chartrey, as a freshman on Tumwater High School's track team, sprinted down the pole vault approach, toting the long, cumbersome pole. And without hesitation, she planted the pole, lifting her off the ground. She faced the challenge without wavering.
"She's had some jumps where they didn't turn out the way she wanted them," said Dan McGuinn, Tumwater's pole vault coach. "And rather than become afraid, she asks what she did wrong and she's more determined to get past that."
There are certain characteristics about a successful pole vaulter. There's the physical capabilities and there's the bungie jumping kind of personality – the risk taker.
"That's Anna," McGuinn said. "She doesn't shy away from anything. She likes the challenge."
And it's that unique combination of physical talent and ignoring the fear factor that makes Chartrey so special. In Tumwater's first meet of the season, Chartrey, who is now a senior, broke the school's pole vault record, clearing 11-foot-6. In the next meet, she broke the record again, making 11'8″.
"She's probably by far the best athlete I've coached in 30 years," McGuinn said during a recent practice. "I've coached soccer, softball and vaulting. And she's probably the best athlete I've ever coached."
From that first attempt at pole vaulting her freshman year, Chartrey was drawn to the event.
"It was an adventure," she said. "It was fun."
She said helping her overcome that fear factor was McGuinn, the perpetual encourager who is quick with praise and a critique. It's those encouraging words that kept her pole vaulting.
"My coach did," Chartrey said when asked what kept her pole vaulting her freshman year. "I feel like he's a second dad to me."
When McGuinn heard that comment he said, "Don't make me cry."
It's a special bond between coach and athlete. Chartrey overcame her fear of pole vaulting with trust.
"Fear's been a factor," Chartrey admitted. "You just trust your coach. They say you can do this. You put that trust in them."
Chartrey wasn't an overnight meet winner. It took some time. As a freshman, she cleared 7 feet and then by the end of the season at district she made 10 feet. Last year, she had the school record in sight but just missed several times. Now, she's got the second best vault in the state for 2A and she's hoping for a state title.
But one thing Chartrey isn't dreaming about is vaulting in college. She'll attend Portland State University next school year and she's not planning on turning out for track. That might change if she continues to up her heights in the pole vault. Clearing 12 feet could bring some scholarship offers.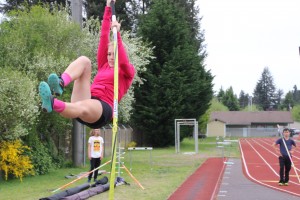 "I've picked my school I want to go to," said Chartrey, who wants to major in architecture at Portland State. "So I feel like if the vaulting team came with that that would be great."
Chartrey is the complete package when it comes to pole vaulting.
"I've seen some very good, talented athletes who couldn't vault because they couldn't get past that fear," McGuinn said. "Once they've got the tools, it's probably 80 percent mental. You can be physically tired and still vault. But if you're not mentally into it, it doesn't matter how good you feel it just doesn't work."
Chartrey has had some high anxiety moments vaulting. Last year, she came off her plant awkward and missed the mat on her landing. Fortunately, her coach was there to catch her.
"I guess I need to wear more padding," McGuinn said with a laugh.
Fortunately, there was no injury – to coach or vaulter. And there was no lingering fear factor for Chartrey. But that thought "I could get hurt" is always there, not far beneath the surface. However, proficiency quiets the fear.
"It's gone away a little bit," Chartrey said when asked about her anxiety level. "You start to learn how to fall. When I had that fall on Coach McGuinn I didn't really know how to fall. Now I feel like I know how to control myself when I feel I'm not going to have a successful jump."
Through Chartrey's chase for school records, there's been two supportive voices – her parents, Brandon and Amy Chartrey. She never had to convince her parents it was okay to pole vault.
"They've been really supportive," Chartrey said with a smile. "They've been right there with me the whole time."
Chartrey's success pole vaulting isn't an accident. She commits to track year around. She doesn't participate in any other sport. During the summer, she'll again compete in the state decathlon meet.
"Anna is a great kid," said Tracy Johnson, Tumwater's head track coach. "She comes from a great family. Her parents are very involved with the program and supporting her. They go where she goes for meets. They've been super supporters of her."
"It comes by hard work," Johnson said. "Anna has been nothing but a great example and a pleasure to be around for the four years she's been here."