You can see the emotion on Lane Sater's face as he repeats a heart-wrenching story of a woman who has been the victim of domestic violence. For the past five years, more than 2,000 times, she has entered an unsafe house. There are holes in the walls, the carpet has been ripped out, the windows and doors are gone. There is no furniture and she basically lives in one small back bedroom. But at the end of this month, this woman's life and living situation will be dramatically improved, thanks to Rebuilding Together Thurston County, where Sater serves as board president.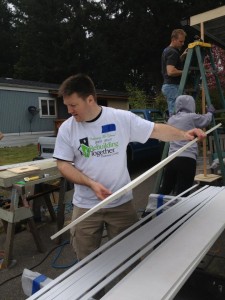 "One of our lines is 'together we transform' and it's really true. You get done at the end of the day and see what's been accomplished and it's awesome. This is amazing," Sater tells me as we talk about the non-profit organization. He says he first learned of Rebuilding Together through a colleague at SCJ Alliance, where he works as a senior designer. The local engineering and planning firm is a supporter of the organization and it didn't take Sater long to realize why.
SCJ Alliance has participated in a number of projects over the years with Rebuilding Together, which works to provide assistance to low-income homeowners who are struggling with much needed home repairs. Rebuilding Together relies entirely on donations for supplies and volunteers' time. Sater says, "People wonder how much difference they can make. If you gave me $5, we would turn that into $20 worth of improvements on a person's home."
Sater finished his first project on a neighborhood of mobile homes about three years ago. He even turned it into a family affair with the help of his teenage sons and many of the resident's families working side by side.
He says it was important to show his boys how to live a "purposeful life" and truly be a part of something bigger. "It was fun doing the work," he recalls. "It was fun being involved with the kids, but then it's great to hear the final story about how much that benefitted the families."
"We have a good time with friends and it means a lot to the people we help," says Trevon Sater.  "I enjoy helping people out that can't afford it," adds his brother, Nathan.  "It makes us feel good to help other people and they are very happy," shares Katelyn Sater.
Throughout the year Rebuilding Together completes ongoing projects made possible through grants from communities in Thurston County. Last year Lane says the City of Tumwater appropriated just over $49,000 in federal community development block grant money to make improvements on over a dozen residents' homes.
But the real excitement comes on April 30, when local volunteers will participate in Rebuilding Day, a national event held in conjunction with other Rebuilding Together chapters. This year, five homes will undergo a makeover in the Olympia area and thousands of homeowners across the country will have their lives changed.
Sater tells me he didn't know how much need there was right here in Thurston County before he became involved with Rebuilding Together. "I didn't realize these projects were going on right next to me. You can make a big difference in your neighbor's life and you don't even know that they're right there."
Although they have enough volunteers for Rebuilding Day, Sater says financial donations and supply gifts are still greatly needed. He tells me with more funds they would be able to help many more people in need.
"If we're enabled by people who believe in what we're doing, we're going to be able to help a lot of people. We're making it a goal to serve a few more homeowners every year – and really make Thurston County a place where every homeowner can live in a safe and healthy home."
To learn more about Rebuilding Together Thurston County or to make a donation, click here.
SCJ Alliance employs great people making a difference, like Lane Sater. To learn more about the community organizations that this Lacey-based company supports, click here.
Sponsored