Did you know it takes 2,000 gallons of water to make one pair of jeans? Local artist Carrie Ziegler shared this fact with me while discussing her latest project. Carrie has been working on the project for one year. The finished project will hang at the WET Science Center located inside the LOTT Wastewater Treatment Facility.

She has partnered with LOTT to increase awareness about water and how our choices impact water usage. "We only have a certain amount of water. It's a finite resource. We don't make more water. With over 7 billion people on Earth, we now impact water in a way we never have before. If we are not careful about how we use it or how we clean it, we are going to be in trouble," Carrie shares with me as she explains why this project is so important to the community.
This is not the first time Carrie has connected conservation and art together. She has a background in environmental education and has completed other large-scale art projects in the community. "For me, the projects that I work on are all about personal empowerment and creating changes in our own lives," says Carrie. And that's exactly what Carrie is hoping the 1,200 students and community members that contributed to the project will take away from her latest piece.
Carrie started with presentations at local middle schools and high schools about water education. "The first step in anything is awareness. We aren't going to change something if we don't know anything about it," she explains to me and adds how intrigued the students were to learn just how much water they really use on a daily basis. "We really looked at how much water it takes to produce certain things like a cheeseburger, or running a computer; they all use water and impact our daily water footprint."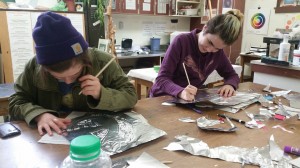 I met Carrie at an Avanti classroom where she is working with high school students. Sophomore Alexis Pratt is just one student working on the 2,000 aluminum piece project. The pieces will then be spray painted and suspended to create a three-dimensional sculpture. Some are salmon and others are water droplets that have designs embedded on them. Alexis tells me, "I think it's a really amazing project. And I think it's a great way to spread the message of conservation to people all around Olympia."
"Water is not something we can just replace and it's something we have to treasure," adds another student. "We need to be sure we use it wisely otherwise we're going to run out."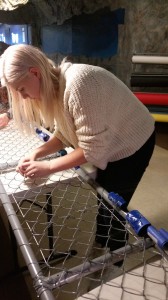 The final art piece will reside in the front windows at the WET Science Center and resemble the infinity symbol. Carrie says she chose this symbolism because it has no beginning and no end, just like the water cycle itself. She hopes it will help draw people inside so they can learn about water.
"Carrie's ability to blend environmental education and art is inspiring," says LOTT's Education Program Manager, Amber Smith. "LOTT is really looking forward to sharing this unique art installation with the community and hope it will inspire people to become stewards of our most precious resource." Amber tells me that LOTT is always looking for new and innovative ways to educate the community. She says they will incorporate the artwork into their green building tours and public education programs.
Carrie says she really enjoys the community connections and positive outcomes that a project of this size brings. She believes that the more people who can be involved creates a better end result. "It's one thing for me to paint an Orca leaping after some salmon and put it up at LOTT. That could be very nice, but when 1,200 kids participated in making it that suddenly creates this whole new layer of impact that I can't do by myself."
The finished piece is set to make it's debut on Friday, April 22, 2016 during the first night of Olympia's Spring Arts Walk. Added bonus – the unveiling happens to coincide with Earth Day this year.
See Carrie Ziegler's creation at the WET Science Center located at 500 Adams Street NE in downtown Olympia. The educational facility is open Monday through Saturday from 10:00 a.m. – 4:00 p.m. Admission is free.