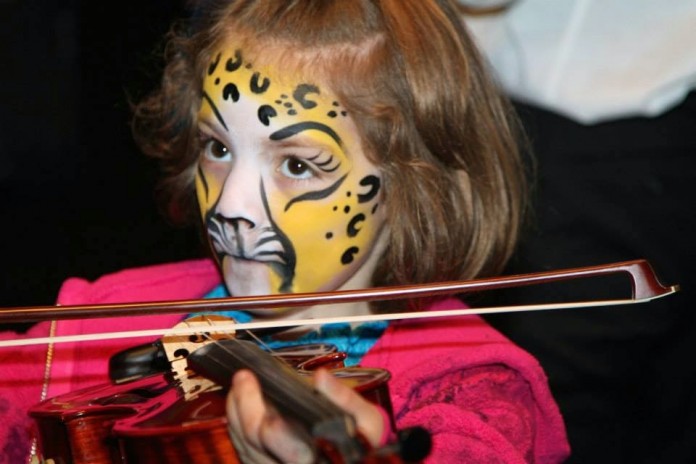 My daughter was four when she touched her first violin. She was wandering through Spring Arts Walk in downtown Olympia with her grandmother. They happened upon the Instrument Petting Zoo inside The Washington Center for the Performing Arts. In that moment, she fell in love with the violin.
Fast forward five years – my daughter will now be proudly sharing her knowledge of a violin with other youngsters as part of Student Orchestras of Greater Olympia's (SOGO) annual free Instrument Petting Zoo.
SOGO is comprised of three orchestras ranging from high school students all the way down to fourth graders like my daughter. The orchestras perform three concerts annually as well as participate in community outreach programs, such as Spring Arts Walk.
The Instrument Petting Zoo began in 2003 when The Washington Center graciously opened their doors during Spring Arts Walk to SOGO. During this free event, parents can expose children to a wide variety of instruments. Young children can touch and play an instrument and make noise. SOGO members will be showcasing a wide variety of orchestra instruments as well as performing some small group ensemble pieces.
"This is SOGO's way to connect with the Olympia community," says violinist Zander Dick. "We can help kids connect with music and it's a good opportunity for kids to play around and find out what instrument they may like to try when they are older."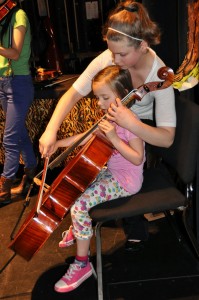 "Participating in the Instrument Petting Zoo opened up new experiences for me," says flute and piccolo player, Megan Smith. The Shelton High School student said that participating in the event, as a SOGO musician, made her realize that teaching may be a future career choice.
"When kids are sharing their instruments in the community, they get to use their skills as musicians to teach others," shares SOGO's Executive Director, Krina Allison. "It's very exciting to hear someone make a sound out of an instrument for the first time and to know you had a part in teaching them."
This experience is a sentiment expressed by many student performers as well.
"Seeing kids' faces for the first time and watching their expression when the instrument makes its first sound was an experience I will always treasure," says Conservatory orchestra member Alexi Kaminski.
"I had fun helping kids and hoping to inspire them to play," says second year SOGO member and Reeves Middle School student, Emily Whitney.
"It's amazing to watch children try out different instruments because they definitely leave with an opinion of which one is their favorite," adds Allison.
"When I observe children trying out the different instruments, there is an occasional child that picks it up and they play it so naturally with a beautiful tone and a good hand position," shares Allison. "Most of us struggle when we start out, so when I see a natural player it makes me wonder if this is the next Mozart."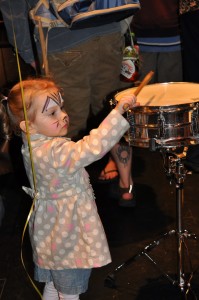 And kids aren't the only attendees that can play at the Instrument Petting Zoo. For Smith, the most impactful student she shared her flute with was an elderly woman who was blind.
Allison encourages families to swing by the free Instrument Petting Zoo on Saturday. "Come in and experience playing an instrument you have always dreamed of – bow a violin, blow into a flute, buzz into a trumpet, or crash the cymbals.  It's all free and it's fun!"
SOGO members will be sharing their instruments and short ensemble concerts during Spring Arts Walk on April 23 from 2:00 – 4:00 p.m. Visit the Instrument Petting Zoo at The Washington Center and then stick around for Procession of the Species. Hint: the Procession route goes right in front of The Washington Center so you'll have a great view, even if it's standing room only.