Once upon a time, the first thing a business did when they moved to a new town was join the local chamber of commerce. "It was an automatic thing," says Victoria Wortberg, Executive Director of the Yelm Chamber.
But times have changed, and so has the relationship between the business community and groups that support it. "Today, a lot of organizations are facing 'economic and business gremlins' that are forcing them to become very focused on getting a good return on investment for every dollar they spend," says Wortberg. "They are starting to ask, 'What have you done for me lately with my chamber dues?'"

In Yelm, the answer is an increased focus on providing relevant services that help local companies grow and manage their businesses effectively. "Our job at the Chamber is to understand what keeps business owners up at night and then look for solutions we can offer that help them with those problems," says Wortberg. Through partnerships, the Chamber offers business coaching and training to help owners manage their business as well as a robust marketing program that includes help in developing successful marketing plans, networking events and ways businesses can directly market to other Chamber members.
While part of the Chamber's role is to help businesses increase their profits she explains, "We are also very focused on our larger goal of improving the quality of life in a community. Sometimes that includes helping to recruit new businesses into the community. But, we only look for companies that can fit in well with our existing businesses, provide new investment dollars, and provide products/services needed by our residents. The recruitment of new businesses is never done in a vacuum but part of a larger focus on the needs of the whole community."
Wortberg transitioned to Yelm from her role as the first Program Manager of the Washington Center for Women in Business, a branch of the Thurston Economic Development Council. Prior to that she had run multi-state non-profit agencies, worked as a senior vice-president at a large health care system, established her own market research firm, and owned an award-winning national advertising agency.
She also was partner in a company focused on community revitalization. "We worked with communities that had fallen on hard times," she says. "Some of them had downtowns that had deteriorated into nothing but gambling, strip joints and bars."
When the opportunity came to lead the Yelm Chamber, she saw a chance to bring the diverse aspects of her background to bear in helping a small town retain its character in the middle of a rapid growth spurt. "People love living here," she says. "They have a pride of place that is quickly deteriorating in other parts of the country. The question is, how do you bring new people who moved here because of quality of life into the fold of people who've lived here for four to five generations?"
Wortberg believes that small towns like Yelm have a key role to play in solving not just local problems, but national ones. "As a country, we're losing that feeling of being connected and making a difference," she says. "Small towns and small businesses are known for their focus on collaboration – working together to solve problems. In a small town, being a business owner isn't about just profits. It's about friendship and being closely involved in the life of your community."
On April 30 and May 1, the chamber will host the 2016 Nisqually Valley Home and Garden Show at Yelm High School, an annual event that brings together residents and area businesses in a festive atmosphere. "In a small town, a trade show is not just a sterile 'walk through and leave,'" says Wortberg. "It's a chance to see your neighbor and have the equivalent of a chat over the fence while still learning about roses. The Chamber gets to show off how extraordinary Yelm is."
The event serves multiple purposes, she maintains, and will include speakers ranging from horticultural expert Marianne Binetti and Kellie Petersen of Gordon's Garden Center to local preparedness expert Vivian Eason of Thurston County Emergency Management and Kirk Haffner of South Sound Solar. "It's a great place to see neighbors, learn something, have fun and get something you need," she says.
The Home and Garden Show is the most immediate next step for the Yelm Chamber, but Wortberg is also focused on several other potentials. "I'd love to work with the city to establish a small business incubator to help our businesses get started the right way," she says. "We're looking at funding for that right now."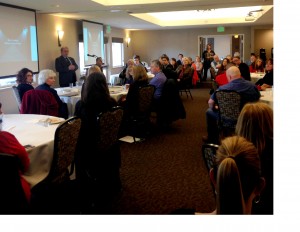 The Chamber will be gaining a new website in the next few months that will function as a portal for businesses to talk to each other and the community. "It will be a great tool," she says.
Additionally, she's working with the city to get input on the comprehensive plan, with a focus on both long and short-term economic development. "We have several new events in mind," she says. "They'll bring businesses and the rest of the community together to celebrate Yelm. It makes such a difference when you approach economic development from the standpoint of bringing a community together to create our best possible future that helps our neighbors, businesses and families."
For more information about the Yelm Area Chamber of Commerce, visit www.yelmchamber.com or call (360)-448-6608.