Creative Ink and Embroidery is nestled at the end of a residential street in Olympia and from the outside looks like an ordinary house. On the inside, it's more like Santa's workshop. Machines are whirring, and boxes of all sizes are stacked throughout the space.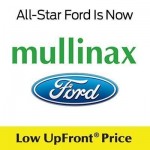 Owner Kellie Presley has the know-how and equipment to silk screen or embroider any sort of textile, including hats, t-shirts, outerwear, as well as backpacks, sports bags and everything in between. You'll find a bookcase of catalogues with clothes, equipment and ideas to last a lifetime – or longer.
Presley, who attended Capital High School, took a graphics design class as a young student. After graduating, she pursued other work, but in 2002, she and her sister, Lori Smith, decided to go in the business of making silk screen t-shirts. Then as Presley said, "We got busy." She hasn't looked back since.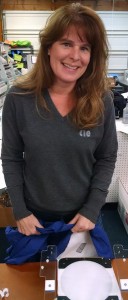 The business has expanded with many more services yet keeps its attention on customer satisfaction. Creative Ink attracts customers throughout our area and also across the United States and into Europe. The business serves sports teams, churches, corporations, individuals and various military groups. Whether your desires are to create a unique design on a single shirt or you have a gross of jackets to personalize, Creative Ink and Embroidery is ready to help. "We pride ourselves on customer service," said Presley.
The business began with silk screening t-shirts, but as time went by Creative Ink found that the embroidery work they sent out did not have their standards for quality control. That prompted the sisters to move all the embroidery in-house.
The high tech embroidery machine can be programmed to sew four identical items with up to fifteen colors at the same time. With accuracy and precision, it can make 720 stitches in one minute. For every job there is a "sew-out" which means an actual design is put onto a scrap of material. Customers are able to see it ahead of time to make sure every color and placement is correct. There's even 3D embroidery.
Presley is amazed at the ways technology continually evolves the business. It remains important to her to keep up with all these changes. This means purchasing new equipment about every other year. The six-color screen-printing machine looks like the octopus ride at the fair. The "seats" are flat stations for the fabric and it goes around for inking. There is a flash heater nearby as more color layers are added. Then there's a giant curing machine that cooks the colors into the fabric. It reminded me of a pizza oven where the pizza goes in one end, is conveyed through the heater and then collected at the other end. It is possible to cure 1,000 single colored t-shirts in an hour.
Creative Ink is run with a small team that stays busy all year. Though her sister is no longer an owner, Presley's husband Greg Grohe helps in the shop. In addition to the silk screening and embroidery, they fabricate stickers, vehicle wraps (signage made to adhere to a vehicle), and banners and can even assist with your business cards. There's also a bevy of promotional items. Their goal is to provide a one-stop shopping experience for your various business needs.
To get your creative ideas flowing, you can explore the website and play with fonts, clothing items, and logos. When you have your designs ready (or in mind) you can make an appointment. Presley will assist in sizing your image and getting it to look the way you have imagined. There's even a printer that will take your photo image and affix it onto a shirt. My friend took in two travel backpacks to have them monogramed. This touch made them much more personal and also easier to identify. My mini-tour of Creative Ink and Embroidery has ignited my ideas for gift giving.
When you want to put your name in front of customers, when your team is creating its identity, or when you want to personalize a precious gift, remember there are people located here in town to help you. Creative Ink and Embroidery can get you inked and put you in stitches – and that's a good thing.