Submitted by Big Brothers Big Sisters of Southwest Washington
Bowl For Kids' Sake, an annual fundraiser benefiting Big Brothers Big Sisters of Southwest Washington, got its start in 1999 in Olympia. For 17 years, enthusiastic supporters of Big Brothers Big Sisters, have rallied their friends and families to either join their team or pledge money to support the agency's mission of providing professionally supported, one-to-one mentoring for children facing adversity. The 2016 Bowl For Kids' Sake is well underway with teams gearing up to go head to head at one of four sessions taking place on April 23 and 30.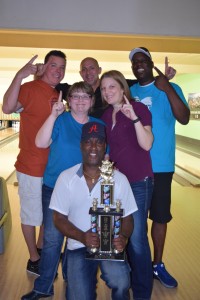 Vicky Churchill, Vice President and Financial Sales Manager at First Citizens Bank, has been a participant and supporter of Bowl For Kids' Sake from the beginning. She got started when she was asked to join a team in 1999. Since then her involvement in the fundraiser and the agency has grown exponentially, with her now recruiting multiple teams from First Citizens and sitting on the board of directors at Big Brothers Big Sisters of Southwest Washington.
When asked what her favorite part of the fundraiser is, she said, "It's fun. It's goofy fun. You don't have to be a good bowler." She also feels it is a great way for younger supporters of the agency to get involved. It doesn't require as much time or financial commitment as other non-profit fundraisers.
So what is the commitment? Each bowler is asked to raise $100 worth of pledges, or $400-$600 for a whole team. Vicky acknowledged that this amount could be difficult for some participants, but she has found over the years that raising the funds as a team has alleviated much of the burden and even made for great team building. Her teams have done everything from chili cook-offs to selling flowers planted in coffee mugs for Mother's Day. She has even been successful in having local stores host special shopping nights with a portion of the proceeds going to the team in exchange for the team helping to market the event.
For teams looking for fundraising ideas, she advises, "Use what you have available to you. What resources your team members bring to the table, and what gets you the most buy-in with people."
New this year is the BIG Raffle to assist with raising pledges. Each $10 donation is entered to win one of three great prizes: a 60 inch flat screen TV, a $1,000 Visa gift card, or the grand prize, a trip for 2 to a Palm Desert condo with airfare. The drawing will take place May 20 and entrants do not have to be present to win. Plus, the individual that raises the most money will win a $500 prize.
For those contemplating starting a team, Vicky recommends talking to someone who has participated before, or calling Big Brothers Big Sisters of Southwest Washington at (360) 943-0409 to ask questions. She is confident that once people see how it works, they are much more likely to want to be involved.
Bowl For Kids' Sake provides an opportunity for the community to learn more about Big Brothers Big Sisters of Southwest Washington, meet some of the current Bigs and Littles, and have a fun filled afternoon with family and friends. The event offers something for everyone. Whether you're a dedicated league bowler, or you need a little assistance from the bumpers, participants are guaranteed to have a blast while having a direct positive impact on the lives of hundreds of local children and families.
Want to learn more? Please visit, swwabigs.org/bowlforkidssake or call (360) 943-0409. We would be happy to go to local schools or businesses to help recruit teams. A small commitment can be the start of a better life for a child in our community. Start something.