Submitted by The Evergreen State College 
In recognition of the 20 year relationship the Longhouse Education and Cultural Center at The Evergreen State College has built with indigenous artists of all kinds, the "House of Welcome" Longhouse presents an exhibition featuring over 70 indigenous artists at the Evergreen Gallery. Building Upon the Past, Visioning Into the Future will run from March 31 – May 11, the opening takes place on Thursday, March 31 from 5:00-7:00 pm.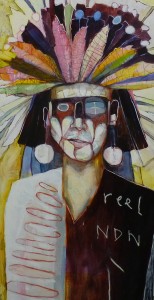 It showcases the works of master artists who are operating at the top of their fields, as well as mid-career and emerging artists, all of whom have participated in Longhouse programming over the years. The artists featured have received grants, taught a workshop, exhibited their work, been an artist-in-residence, or otherwise participated in Longhouse programs in a meaningful way.
Curated by Longhouse staff members and artists, Erin Genia (Sisseton-Wahpeton Oyate) and Linley Logan (Seneca), the works on view include paintings, drums, garments, sculpture, masks, beadwork, photography, paddles, baskets, prints, ceramics, carvings, vessels and jewelry and draw from a diverse range of stylistic traditions. "Artists are luminaries of their cultures, lighting the pathway back into the far reaches of history, and leading the way into the future with their creative vision," said Tina Kuckkahn-Miller, Longhouse Director, of the important role artists play in their communities, "It's been an honor to work with so many gifted Native artists through the work of the Longhouse over the years, many of whom are featured in this show."
The exhibit features a significant collection of woven pieces and baskets from master weavers and emphasizes the Longhouse's current initiative to build a Fibers Arts Studio on the Indigenous Arts Campus at The Evergreen State College. Also featured are glass vessels created using basket designs which demonstrate the way traditional design can beautifully translate into new media. Glass sculptures capture concepts, form and light and reflect the vision of a future Cast Glass Studio on the Indigenous Arts Campus. Other sculptural forms created in clay, bronze and wood, and two-dimensional pieces spotlight the mastery of media the Longhouse artists are fluent in.
In addition to those artists from North America, Building Upon the Past, Visioning Into the Future highlights the relationships with indigenous artists from around the Pacific Rim that the Longhouse has cultivated over the years, including Kanaka Maoli artists from Hawaii and Maori artists from New Zealand. Works from some of the Toi SgwigwialɁtxw artists-in-residence appear in the show to pay homage to our connections to Maori artists and partnerships with Maori arts organizations.
More information about the exhibit can be found here. The Longhouse Education and Cultural Center, "House of Welcome," is a public service center located at The Evergreen State College. Its mission is to promote indigenous arts and cultures through education, cultural preservation, creative expression and economic development. To learn more about the Longhouse please visit the website at www.evergreen.edu/longhouse.