Scott Hanauer's first professional job was as a house parent in a residential treatment facility for children who were labeled emotionally disturbed. What started as a stop gap between college and finding a "real job" turned into a career working with youth, serving as a therapist, developing programs to train other clinicians and providing education and support programs to enhance parenting skills for families in crisis.

At the same time Hanauer was discovering his life's work, Thurston County's Community Youth Services (CYS) was in its own infancy. In the early years, CYS's programming consisted primarily of an after-school drop-in center for teens and was staffed mostly by volunteers.
By 2004 Hanauer was the Statewide Director of Out-of-Home Care for Children's Home Society of Washington (CHSW) in Seattle, and CYS had grown from a small grassroots organization to one of the largest child welfare agencies in the state, serving more than 3,000 children, youth and families throughout Thurston, Mason, Lewis and Grays Harbor counties.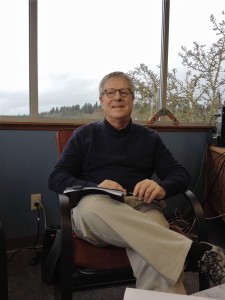 That same year Hanauer and his wife, Vicki, moved to Olympia, when he was offered the job of Clinical Director at CYS. Last August, he was named Chief Executive Officer and now oversees an organization that employees over 130 people as well as an army of volunteers. The system of care offered by CYS includes over 20 major programs that fit into clusters: Early intervention, out-of-home care, behavioral/mental health, employment/education, housing/shelter and juvenile justice.
Although he's in charge now, responsible for the "business" of fundraising, human resources, and the multitude of things that affect day to day operations, at his core, Hanauer is still a therapist, and he believes it is the one-on-one relationships he and his staff and volunteers build with young people is the most important work he does.
When he talks about his work, it is easy to see that Hanauer believes what he is doing is critical. "I came to CYS to advance my career by returning to working directly with children and families and to work more with staff who were providing services."
When he first started as a therapist he was acting on instinct. After a year or two, "I realized that I had a real job! And, I loved what I was doing. I loved going to work to talk with my colleagues about our work and what how we can improve. We also realized that the kids we worked with were not 'emotionally disturbed.' Rather, they were victims of abuse, neglect, sexual molestation, domestic violence and substance abuse. They reacted to that trauma in exactly the same way any of us would. They were angry, anxious, and depressed. They behaviorally acted out their traumatic experiences and feelings."
He continues, "With the support of terrific mentors and colleagues, we learned that the relationships we house parents developed with those kids was critical to their healing. We also learned that those relationships were more effective than traditional therapy or psychiatric care or medications. Even now (40+ years later), I hear from people I worked with in the 1970s and 1980s who describe how much they felt supported and helped by the house parents. Ironically, they never remember what we said to them only how they felt and what they experienced with us."
In practice as a therapist and during his time in graduate school, Hanauer also came to recognize that instead of traditional therapy, he saw better results when he engaged in positive social activities with his clients. "My therapy office became basketball courts, bicycles, chair lifts, climbing ropes, parks, hiking trails, etc. Who would not like this kind of work?"
He brings that same sensibility and outreach in programming to CYS. Research into the effectiveness of their programming backs up Hanauer's claim that untraditional intervention and therapies are often the key to helping children overcome trauma.
"CYS provides a system of integrated care for youth, young adults and families who have experienced complex trauma," he says. It's work he helped implement during his tenue as Clinical Director. "Over the last 10 years we've worked to understand trauma, it's impact on people and more importantly what works to mitigate the impact of trauma."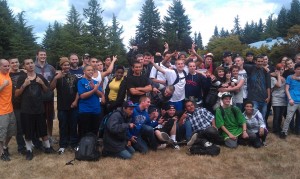 CYS partners with a number of research institutions including the University of Washington's Evidence Based Practice Institute, Portland State University's Pathway to Success Program and the University of Oklahoma's National Center for Youth Services to develop programs, practices and strategies that are based on the latest understanding on overcoming the trauma of childhood physical abuse, sexual molestation, and neglect.
"Nearly all of our programs are home, school and community based," says Hanauer. "We provide services to participants when and where they are needed. This includes our mental health programs where participants are not required to come to a CYS office to receive traditional office based therapy. Rather, our clinicians provide evidence and research based services at participants' homes, in their schools and even on the streets if needed."
Hanauer is proud of the CYS success stories. "Permanency for children who bounced around in the foster care system means a lifetime family where children know they belong and can rely on that family during times of high stress – no matter what age they are." Hanauer tells of two families who have have adopted (provided permanency) to six children.
One couple "… adopted four adolescents whose future was (going to be) a childhood of foster care and then complete emancipation. Many of those four children are now adults and are thriving. All of them say that (their adoptive parents) saved their lives!" In another case, two sisters who were separated in the foster care system were adopted together. Due to the girls' extraordinary behavioral problems and risk to each other (because of being victims of profound sexual abuse by many adults) it was thought they should live apart. The girls have made remarkable emotional, behavioral, and school progress since living with their adoptive parents.
Hanauer wants the community to know that there are multiple ways they can support CYS. As with any social service organization, funding is always a challenge. Donations from individuals as well as businesses and other organizations are always welcome and critical to the success of their mission. Sometimes, just opening a door for CYS in a neighborhood or business is all it takes
Personal involvement in also a priority. Hanauer points out that in Washington state, and in Thurston County in particular, there is an ever growing need for families who can foster children and adolescents. "There are a number of ways people can help mitigate this crisis," he says. "We understand that not all families can become foster parents. However, supporting youth and foster families can include providing weekend respite care or mentoring a foster youth or helping CYS talk to organizations (employers, faith based, etc.) about how this crisis can be ameliorated."
"CYS has given me the opportunity to stay involved with our programs, staff and participants, which is good as I'm not very good staying tied to a desk," says Hanauer. "I will always be a counselor more than an administrator. But I'm learning how to be a better administrator especially given our growth into Pierce, Mason and Lewis counties as well as the growth of our mental/behavioral health programs. One of our current challenges is to determine our agency priorities and where and how to expand. I have never known of an agency that has so many opportunities to grow. Those opportunities are because of our staff and the successes of our programs."
To find out how you can support CYS, either through a financial donation or by becoming a community volunteer, please contact Lynsi Polanco at 360-918-7822 or lpolanco@communityyouthservcies.org.