"Fostering is an incredibly rewarding experience. Yes, it can be difficult to say goodbye to your foster babies when it's time to find them a new home, but that hardship is far outweighed by the fact that your fostering saves lives," says Chandra Mincher, Education and Volunteer Coordinator at Joint Animal Services on Martin Way in Olympia.
Along with the rest of the shelter's staff, Mincher works hard to better the lives of the less fortunate animals in our community, but unfortunately there is only so much space and equipment available. "Getting the animals into a foster situation is the best way to insure they get individual care and socialization in a lower-stress environment. It also frees up kennel space at the shelter for all the other animals that come in. In 2015, we received an average of 107 animals a week," Mincher notes.
Although fostering an animal can be difficult, both physically and emotionally, it is a worthwhile endeavor. While shelters do a great job at providing a safe place for homeless animals to stay, it is hard to give individual attention to each and every one of them. This is why fostering animals is so important. While living in a foster home, animals have a chance to be social, active and included as part of a family.
My family had the opportunity to foster a litter of kittens a few summers ago. "We were caring for five kittens, one of which we ended up keeping, and it was a lot of fun to watch them grow into their individual personalities," says Nicki Aden, my mom. "It was very gratifying to provide a temporary home and know that we were helping them get socialized and ready for adoption. I'm glad that we were able to give them space and a nurturing environment rather than having them be confined to a cage," she continues.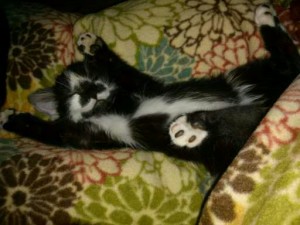 Our family also fostered a cat that had some trouble socializing with others, leaving him a bit skittish. By the time the cat, who we nicknamed Eugene, was due back to the shelter he was much more comfortable around other cats and people making him a better candidate for adoption.
Some animals need help with socialization skills or have a hard time dealing with the busy environment of a shelter. Fostering can give animals that struggle with these things a chance to relax in a less chaotic setting. "For some animals, the shelter is too stressful of an environment, and we need to place the animals in a foster home to get a better sense of who they are," explains Mincher. "Are they really that shy or very hyper, or were those characteristics just due to being in a shelter?" she continues.
Fostering is a great way to become familiar with a specific type of animal as well and gain experience with a particular breed or species. By participating in animal fostering, people can see whether or not they are a good fit to own and care for an animal permanently.
High school student Cora Sharpe has a lot of experience with fostering. "I recommend fostering because it's a good experience and if you're looking to keep that sort of animal you can gain experience," she shares. Sharpe specifically fosters reptiles and her past charges have include a leopard gecko and bearded dragon.
Now that Sharpe has had some experience, she is positive she would like to own a bearded dragon in the future. "The shelters aren't as experienced with exotic animals and they don't have all of the equipment to take care of them," Sharpe shares. She has been able to help by giving these reptiles a temporary home where they can live in a suitable environment.
Interested in becoming a foster for local animals?  Joint Animal Services has a relatively short process to undergo in order to become an animal foster family. "The first step is to attend a foster orientation," Mincher shares. "These orientations last around 30 minutes. If, after the orientation, you feel that fostering would be a good fit for you, you may submit a volunteer application, which are handed out at the orientations. Once the application and background check are completed, we schedule a home check to see where the foster animals will be staying while in your care," she says.
By being thorough in their screening of potential fosters, Mincher and the shelter staff ensure the animals are going to a home where they will experience positive care and attention.
Fostering an animal is a big commitment but it's a worthwhile one, benefitting both the animal and the foster. If you have the time and space to care for an animal know that you'll be improving its quality of life and giving it a better chance at adoption in the future.
The dates and times of upcoming orientations can be found on the Joint Animal Services webpage. For more information on becoming a foster, click here or call Joint Animal Services at 360-352-2510.