Pi Day may be on 3.14 (March 14) but Pie Day in Olympia is always the fourth Saturday in February. The Olympia Bakers Guild has organized their eighth annual Pie Fest where donated pies turn into cash and canned food to support the Thurston County Food Bank and the Senior Nutrition Program. For three cans of food or $3, you'll be able to get a generous slice of freshly baked pie.

When Pie Fest opened its doors last year, the line went outside and down the block. "One thousand pieces of pie were purchased in the first ninety minutes," recalled Kathy Kinard who helps organize this annual community event. This year plans are in place to make sure there's plenty through the whole event.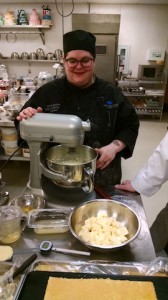 First, as Kinard emphasized, it's imperative that people enter the pie-judging contest. Bake two identical pies that require no refrigeration. That includes making your own crust. Bring them down to the Olympia Center the morning of the event between 10:00 a.m. and 11:30 a.m. with $5 or five cans of food. There will a number of celebrity judges from local businesses, including the San Francisco Street Bakery, 8 Arms Bakery and the Bayview School of Cooking. You'll get a ticket for a piece of pie. The proceeds from two pies are $48, which is enough to feed a family of four for one week. Now that's community support.
Baking Inside South Puget Sound Community College
This year the Olympia Bakers Guild has enlisted help from the South Puget Sound Community College baking program. Students are contributing 40 pies, which will be made from apples, peaches and berries donated from the food bank. The SPSCC bakers are abuzz as they plan their fruity concoctions. These pies will not be part of the judging competition, but students may enter their own pies separately if they choose.
Melanie Shelton is the full-time Professor of Baking and Pastry Arts at South Puget Sound Community College. As a former owner of the Bearded Lady, she brings a wealth of experience to the department. Student Nathan Lusk appreciates her knowledge of specialty baking, such as gluten-free and vegan, as well as her knowledge gleaned from running a small business.
Lusk, who is midway through the yearlong program, will graduate in June. He plans to work in a local bakery to gain more experience with the goal of opening his own donut shop. When asked about the program, he responded, "I love it. It's really, really great."
Raquel Smith, another student, spends her week baking at SPSCC and is baking cakes on the weekends for family and friends. "I love making cakes," Smith said. She is completing both the two-year culinary program and the yearlong baking program. "I thought I wanted to be a cook," she explained, but then changed her mind when she found she was especially interesting in the baking side of things. Nevertheless, she likes having the education and knowledge that the culinary program provided and believe it will open up greater job possibilities after graduation.
The SPSCC hands-on classroom is a beehive of activity with each student working on a different recipe. Each week they receive a production list. It's their job to plan and prioritize. Then it's time to get out the flour. Shelton goes from student to student solving problems, answering questions and giving feedback. She teaches both time and cost effectiveness.
Cakes, scones, waffles and others desserts may end up in their retail case in the Clipper Café, which serves everyone on campus. Plated desserts go to the Percival Room and other items will support the catering done by the culinary arts program.
Other Ways to Enjoy Pie Fest
Here's another idea for those who want to support Pie Fest but are not interested in the competition. You can bake a pie using the basic rules of the contest, but you can take a shortcut with a store-bought crust. Making a single pie is fine. When you turn in your pie, you'll get a ticket for a free slice.
Maybe you have no desire to bake a pie for the contest, but you do have interest in eating a piece or two. That's important, too. Join the festivities. Check out the baskets of locally donated goodies, and then buy raffle tickets from the Lake Fair Queen and her court. Volunteers from Rockabilly Mafia Dolls and the Olympia Food Co-Op will also there. This event is for all ages.
Find specific contest rules at Pie Fest 2016 Pie Baking Contest.
Watch a video of SPSCC students in action, making pies for Olympia Pie Fest.
Olympia Pie Fest
Saturday, February 27
10:00 a.m. – 11:30 a.m. (pie contest drop-off)
1:00 – 3:30 p.m. (event)
Olympia Center
222 Columbia Street NW in downtown Olympia
Eat Well – Be Well