Intercity Transit means more than a bus ride to the middle school Earn-a-Bike graduates who bring home a refurbished bike to call their own. What started as a small group of friends and neighbors interested in bicycling and repairing bikes to give to kids is now Intercity Transit's Earn-a-Bike program. The after-school program, now in its fifth year, teaches youth safe bike-riding skills and basic bike maintenance. Graduates earn a donated, refurbished bike.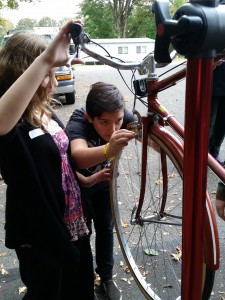 John Vanek, an Olympia attorney, started the original program and still volunteers at the bike shop where bikes are refurbished for the Earn-a-Bike program. John and other dedicated volunteers donate time on Wednesdays and Saturdays repairing bikes that might otherwise end up in the landfill. John estimates it takes about six to eight hours per bike to refurbish a bike from top to bottom. "We replace it with quality parts to have the donated bikes ready to be road tested before they are taken to the schools for Earn-a-Bike," he says.
Currently, the Tumwater Police Department (TPD) donates unclaimed bikes to the program. Earn-a-Bike hopes to expand such partnerships. In addition to the TPD, individuals and Earn-a-Bike graduates donate bikes they have outgrown or can no longer use.
David Coppley, Intercity Transit's Walk N Roll Program Assistant, oversees the Earn-a-Bike program and invites people to stop by the bike shop and check it out, donate a bike, or volunteer. The Bike Shop, located at 209 Thurston Street in Olympia, is currently open on Wednesdays from 1:00 – 5:00 p.m. and Saturdays from 11:00 a.m. – 4:00 p.m.
According to David, Earn-a-Bike logged 481 volunteer hours in 2015. The program began by working with K-5 students, but later turned the emphasis to middle school in 2014 and expanded classes from four to eight hours. Coppley and program partner, Jessica Gould, created the curriculum and tightened up what had initially been a more informal approach.
Asher Coppin was excited to participate in the Earn-a-Bike program. "We met after school and had snacks before we got started," says the sixth grade student. "We learned so much. Now when I break down by the road, I know what to do and with the pack of tools they gave me, I can fix it myself without having to call my mom."
Raymond Gutierrez, Dean of Students at Washington Middle School, had nothing but praise for the program. "We are very much a neighborhood school, and with 700 students, it is wonderful Intercity Transit promotes such programs as Earn-a-Bike and Walk N Roll, which encourage students to commute to school by bike and on foot. We also have many staff who are good role models for the kids by biking and walking to school."
He added, "It (Earn-a-Bike) is so popular, we always had a waiting list."
In 2016, Earn-a-Bike will be based at Bush Middle School in Tumwater School District for spring and fall classes and in 2017 at Nisqually Middle School within North Thurston Public Schools.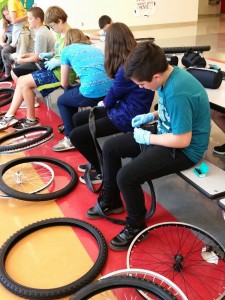 Earn-a-Bike is part of Intercity Transit's Walk N Roll youth education program. The program is a partnership with the Thurston Regional Planning Council. Continuing such an important program depends not only on successful partnerships, hard work, and volunteers, but also funding. Walk N Roll is possible from a mix of Intercity Transit funding and Federal Transportation Grants, such as Safe Routes to School and Transportation Alternatives Program (TAP). Local bike shops, like Joy Ride in Lacey, also contribute by providing new parts at a reduced cost.
Remember, it takes a community to prepare a young cyclist for a smooth road ahead. If you would like to be part of this great program, contact walknroll@intercitytransit.com or 360-705-5855.
Sponsored