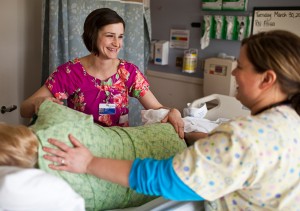 In 1967, the American Academy of Pediatrics introduced "medical home" as a way to provide better care for children with special health care needs. Since its inception nearly 50 years ago, patient-centered medical homes have changed and adapted to better serve more patients across the health spectrum.
Today, patient-centered medical homes offer patients of all ages with access to team-led health care. This means that, in addition to a patient's primary care physician, patients work with a team of pharmacists, case managers, health educators and behavioral health specialists who can provide added layers of care to a patient's overall wellness.
The pros to working with a medical team versus just a primary care physician are many and include benefits such as fewer emergency room visits, more organized care, and educational support to help patients make informed decisions. For people living in Thurston County, patient-centered medical homes are made possible thanks to the health care professionals at Providence Medical Group.
In addition to offering medical patient-centered medical homes to its patients, Providence Medical Group is revered as being a leading provider of medical homes by the National Committee for Quality Assurance (NCQA), a non-profit organization dedicated to improving health care quality.
Earlier this year, 10 of Providence Medical Group's primary care clinics were recognized by NCQA as Level 3 patient-centered medical homes. In order to earn this accreditation, the 10 clinics had to meet criteria such improved access to services, use of data to improve population health, and coordination and tracking of referrals, tests and transition of care, just to name a few.
Rik Emaus, D.O., chief executive of Providence Medical Group Southwest Washington, said this designation is an example of the hard work and dedication of Providence Medical Group's outstanding primary care teams and Providence Medical Group's commitment to providing its patients quality care, right here in the community.
To learn more about Providence Medical Group and the benefits of patient-centered medical homes, visit Providence Medical Group online or call 855-776-4362 for more information.
Sponsored