After you turn 40, I no longer think you can qualify as a groupie but I would classify some friends as dedicated Pink Martini fans. When we learned that the band, which mixes jazz tunes with classical music and old-fashioned pop from around the world, would be performing at The Washington Center for the Performing Arts, we quickly bought tickets.
It's not uncommon for Pink Martini to invite special guests on stage. We were all in awe when we heard the first few notes from the clarinet of David Hales, a Timberline High School senior. In fact, my friend leaned over and said "you have to write a story about him."
Partners in Music Education
Pink Martini bandleader Thomas Lauderdale is passionately interested in music education, and in providing opportunities for young musicians. The band has a long history of collaborating with young artists.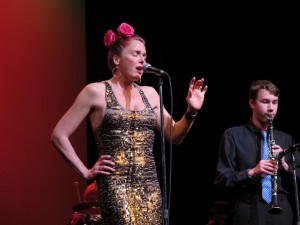 Collaborations with Portland-based youth orchestra and choir programs have been so successful that the band decided to take the program on the road and engage with local high school musicians while on tour.  "It is as important as it is fun for the band to share the magic of a lit stage and an engaged audience with young artists who are putting in all those earnest hours behind the music stand," says Pink Martini's Claire Dennerlein.
"We are passionate about putting our community on stage and bringing educational opportunities for youth," shares Jill Barnes, Executive Director of The Washington Center. "We also attract and bring world-class performers like Pink Martini to South Puget Sound."
"So to put these two areas together was truly magical, and such a perfect example of our mission," adds Barnes, reflecting on Hales' performance on Wednesday, January 13, 2016, in front of a packed house.
"One of the greatest things about being in this band is knowing when we've had a connection with budding musicians. Having the chance to perform with them on stage is even more special," says Timothy Nishimoto, vocalist and percussionist for Pink Martini on performing with young musicians such as Hales.
Clarinet Performance
Hales first picked up a clarinet as a fifth grade student. His mother played the instrument into college, but Hales said he wasn't permitted to touch her clarinet for quite some time.
"(Playing the clarinet) is a way that I can relate to my mom. It gives us something to talk about besides video games and schoolwork. As our interests have diverged, music has become more important," says Hales.
"David has become a very mature musician with some really extraordinary musical ability.  He has great opinions about the music and often brings me a new perspective I had not seen in the music," comments Timberline High School band instructor, Cal Anderson.
While Hales plans to continue playing the clarinet after graduating from Timberline, he hopes to focus his college education around math and science.
Playing with Pink Martini
Hales heard about the call by Pink Martini for audition tapes from his piano accompanist, Jennifer Bowman. "David is a natural musician," comments Bowman who has worked with Hales for four years. "He simply feels the music in a certain way."
Bowman adds that Hales was very diligent in preparing his audition tapes. "These types of experiences show kids that you never know what will come up, if you prepare and practice," shares Bowman. "It's great to be able to show kids what is possible and that there are many interesting, various paths to be part of really cool things in music."
Hales played "Hang On Little Tomato" on his clarinet, with Storm Large, a lead vocalist for Pink Martini and the entire band. "It was not a technically difficult piece, but it was a different style than I'm used to playing," reflects Hales. "I'm not familiar with the old-timey jazz sounds so most of my work was not on studying the notes but getting a feel for the embellishments of the tune."
While easily the largest crowd that Hales has performed in front of, he says that he was not as nervous as he had expected. Hales and Pink Martini played an earlier concert to over 800 local students. "Pink Martini was very accepting and friendly. It helped to talk with the group before," says Hales.
In March, Hales will have another solo opportunity with Student Orchestras of Greater Olympia (SOGO), where he has been a member for about four years. "David is a great player and is always prepared with technique. His musicianship shines," explains SOGO's Music Director and Conservatory Orchestra Conductor, John Welsh.
"David is always perfecting his craft and is a tireless member of the orchestra," adds SOGO conductor, Greg Allison. "He is still working on passages from the music when other students are gone and we often have to force him to put his clarinet away."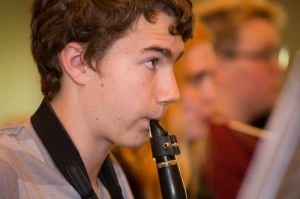 "I think that kids can accomplish a lot of awesome things when the adults around them support them and trust them. Opportunities like this show kids how professionals at the top of their game approach their performances," adds Anderson.
"It was incredible to watch David perform, and I'm sure this will be a night he won't ever forget," summarizes Barnes.
"David just killed it onstage. He's a natural – a rare combination of strict training, yet laid back stage presence. He was a joy to sing with," said Storm Large after performing alongside Hales.
Watch David Hales perform with SOGO on March 6 at The Washington Center. Tickets to the winter concert can be purchased here. Visit The Washington Center's calendar to pick up tickets to other outstanding music and arts programs traveling through Olympia.