Loren Kattenbraker is eight and has just landed her first assistant position. Today, she is visiting the Olympia branch of the Timberland Library with her father Steve Kattenbraker. The third grader is planning to read to Shelby, a 13-year-old Golden Retriever who is part of a volunteer team called PAWS to R.E.A.D. (Reading Education Assistance Dogs). The program gives local children a chance to read out loud to a very attentive and nonjudgmental listener. Avid and beginning readers are attracted to attending these events.

PAWS to R.E.A.D. was co-founded by Brenda Wendler and Cheryl King in 2004. It is a community outreach program that provides children with a motivational, educational, and fun literary experience. Volunteers, dogs and their owners are certified by The Bright and Beautiful Therapy Dogs Inc. program. This human and dog certification program focuses on the dog's temperament, response to distractions, and their interaction with people. The result is a relaxed and fun environment where children look forward to reading to the dogs.
Cheryl her husband, Dennis, started volunteering in the community 20 years ago, first with their dog Snarf, and for the last 10 years with Shelby.
"Loren asked us if she could help out with our program," says Cheryl. "She is a great assistant."
"After attending two or three PAWS to R.E.A.D. events at different libraries, I wanted to help," Loren explains. "The last time was my first time as a helper. I bring the kids to the dogs. The kids are about the same age as I am."
Loren's father helps as well and adds, "We also talk to the dogs, pet the dogs, and keep them occupied in between children. Loren and I also volunteer together at a local food bank."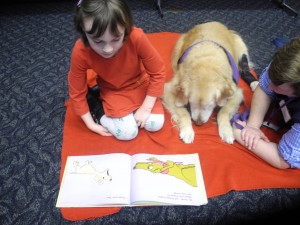 Loren attended her first PAWS to R.E.A.D. program about two years ago. When asked if she reads to her own dogs, Loren says, "I've got a terrier mix and a border collie. Sometimes I read to them, but sometimes the collie is annoying. She kind of like falls asleep, but that is not a big problem, but she snores in her sleep. I was trying to read to her once and she closed the book." Loren likes to read a series called The Puppy Place, by Ellen Miles.
"The main thing about this program is the kids love it," says Mary Rulewiez, Senior Youth Services Librarian at Olympia Timberland Library. "We always have a packed room. King and her group are completely organized. They do everything. We just provide the books for the kids to read to the dogs."
"The dogs are the most loveable, adorable, well-behaved dogs," continues Mary. "The children are completely enraptured by them and they really feel like they are reading to the dogs, and that the dogs are listening and enjoying the story."
"We often have them come for one of our district wide events during the month which celebrates reading aloud together. We have been doing this for many, many years, and PAWS to R.E.A.D. has never waned in popularity. The kids love it," adds Mary.
"Children find reading to an animal less intimidating," says Cheryl. "It is a special time for them that is helpful and fun. There was a student who could read well, every word, but he wasn't able to tell you what he had just read about. His mother told us she had tried everything to get him to slow down. When he started to read to Shelby, he began explaining the story to the dog. He told Shelby what different words in the book meant. His mother told us this was very helpful.
"The PAWs to R.E.A.D. events are especially helpful for children who are uncomfortable reading out loud in front of others. One mother told us that her daughter would not read out loud. After attending our program, her daughter does," explains Cheryl.
"There was one little boy who followed us from place to place. His mother recognized how much her son was improving and drove him around the area from library to library to attend our events," says Cheryl. "She told us that he was the most improved reader at his school."
"Shelby used to perform on a stage in front of an audience of 75 or so children," offers Dennis. "She can answer questions with her barks. For example, I ask her, 'How many Great Lakes are there, Shelby?' Shelby will bark five times. 'How many legs do you have?' Shelby will bark four times."
Dennis turns to Shelby and asks, "Can you say Merry Christmas?"
"Bark bark, Bark bark." answers Shelby
There are 17 teams in the local organization. Events are held in libraries of the Timberland Regional Library system, North Thurston Public Schools, Joint Base Lewis-McChord, and at the Hands On Children's Museum