Amanda Price-Salazar, owner of Tumwater's Edge Fitness, is a daughter, wife, and mother. As a personal trainer and fitness coach, she has naturally attracted a lot of women as clients. But don't mistake her petite frame and kind smile for softness. Price-Salazar is as tough as they come, helping her clients achieve the results they come to Edge Fitness seeking.
Among those clients seeing terrific results are a hardy band of men who have found in Price-Salazar and Edge Fitness an inspirational, challenging and knowledgeable trainer who will work them to fatigue every time. Men's needs are different from women's, both in nutrition and in the gym, and Edge Fitness's customized programs address both.
"A lot of clients come to me initially sharing that they didn't want a male trainer because they'd feel the pressure to measure up. With a female trainer, they feel that they can let go of that competitive aspect and just focus on the workouts," shares Price-Salazar.
"We all have a running joke that they are coming to see me just to be bossed around by another woman," she laughs.
Price-Salazar explains how so many of the men who come to her are approaching 40 or 50 and are in desperate need of a lifestyle change. Their work and home habits have resulted in a highly sedentary life, deteriorating health and increasing weight. "I see the same thing over and over. These men sit at a desk all day and have lost control of their diets, eating at work meetings or business trips, often in restaurants, and it just adds up," she shares.
Working together, she helps retrain habits both in the gym and in their daily life. Initially, many clients aren't really sure where to start. "A lot of these guys come in and they only know what they did with their high school or college sports coaches. They didn't have any real training and got injured along the way somehow and have let that be their excuse to not come to the gym," Price-Salazar explains. "Here they learn good form and technique that they can use here, but also outside the gym in short 15 or 20 minute workouts on busy days."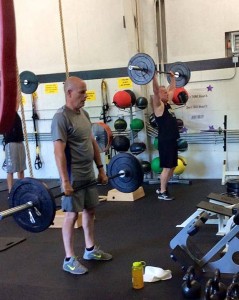 It's common practice for her to customize workouts for clients. Simple lists of 10 to 15 exercises using only body weight or simple tools that can be carried to the office, kept at home, or packed in a suitcase when on the road. "Even on their busy days, when they can't come see me, they can be doing something to help reach their goals and be healthy and active," she says.
One of Price-Salazar's clients is Doug Beagle, a 53-year-old who works for the City of Olympia in storm water management. Beagle has been working out at Edge Fitness for several years and shares that he started going because he was tired of the "gym scene" and needed something different. "The challenge is what I most enjoy," he shares. "Working with Amanda is always an amazing experience. She is always motivating me and the entire group. She is extremely knowledgeable of her craft and really easy to talk to about your personal goals. Any man that steps foot in her classes would find that every one of Amanda's workouts are challenging."
And the workout routines won't disappoint – no aerobic step classes or complicated dance routines here. "We focus on cross-training your body for best results and that means different things for different people," shares Price-Salazar. "We do a lot of HIT (high-intensity interval training) workouts, use the battle ropes and kettle bells, and do some Olympic weight training with the bar." The ultimate goal being to increase your heart rate while adding in strength training, balance and core work.
Dale Eklund has also worked with Price-Salazar during Boot Camp and small-group training for over two years. "My wife did personal training with Amanda after doing physical therapy for a back injury. She was impressed with Amanda and thought we should do boot camp classes together. I must admit I was a little surprised to be the only male at that first session! I found the workouts to be challenging and a good mix of cardio and strength training," says Eklund. "I still find the workouts challenging. Each one is unique and we never do the same workout twice. Amanda is always positive and encourages everyone improve their level of performance. Being in my mid 60's, I find the greatest benefit is maintaining and building strength and cardio fitness enabling me to maintain an active lifestyle of outdoor recreation and work with fewer injuries and more endurance."
Edge Fitness is different from the typical gym membership. Too often we jump on the elliptical and call it a workout. At Edge Fitness, the group classes and one-on-one training by Price-Salazar ensure you work hard every time, doing something new, avoiding boredom and constantly challenging your body.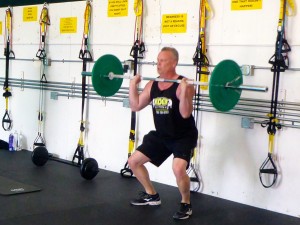 "For me, it's all about customizing a program to fit each client's needs," explains Price-Salazar. "I want these men to leave feeling empowered, not just about their health or weight, but empowered with the knowledge and tools to work out and be healthy no matter where they are in their life."
Edge Fitness
2806 29th Ave. SW Suite A, Tumwater, WA 98512
360-790-6767
amanda@edgefitnessnow.com